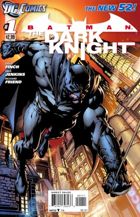 BATMAN: THE DARK KNIGHT #1
Tytuł historii: Knight Terrors
Miesiąc wydania (okładka): Listopad 2011 (USA)
W sprzedaży od: 28.09.2011 (USA)
Historia: David Finch & Paul Jenkins
Scenariusz: Paul Jenkins
Rysunki: David Finch
Okładki: Finch, Friend & Sinclair
Kolor: Alex Sinclair
Tusz: Richard Friend
Liternictwo: Sal Cipriano
Ilość stron: 32
Twoja ocena:

GD Star Rating
loading...
Kiedy tajemnicza postać prześlizguje się przez sale Arkham Asylum, Batman będzie musiał przedrzeć się przez grupę psycholi, a Bruce Wayne będzie musiał się zmierzyć z niespodziewanymi konsekwencjami prawnymi związanymi z Batman Incorporated.
Bruce Wayne wygłasza na balu charytatywnym przemówienie dotyczące strachu i zapewnia, że nie boi się podejmować decyzji. Chwilę później Wayne dostaje obietnicę wsparcia od kongresmena. Luźną atmosferę przyjęcia niszczy jednak pojawienie się porucznika Forbesa, który chce porozmawiać odnośnie sponsorowania samozwańczego stróża prawa oraz wtyki w policji, która w tym pomaga. Nim jednak zostają zastosowane oskarżenia do rozmowy włącza się Jaina Hudson, córka Toma Hudsona i bollywoodzkiej aktorki. Dzięki jej obecności Forbes rezygnuje z dalszego przepytywania Wayne. Jaina korzysta z okazji i zaczyna flirtować z Bruce'em. Ten jednak nie wykorzystuje pokus kobiety i po pewnym czasie wychodzi z przyjęcia, by zmierzyć się z innymi kłopotami.
W międzyczasie w Arkham trwają zamieszki. Ktoś uwolnił trzystu więźniów. Sześćdziesięciu pięciu strażników zostało uwięzionych wewnątrz budynku. Na pomoc przychodzi Batman, który unieszkodliwia niektórych szaleńców i wchodzi do środka szpitala psychiatrycznego. Tam miga mu przez chwilę kobieta w stroju białego królika, następnie jednak Batman widzi zmutowanego Two-Face'a, który każe mówić na siebie "One-face".
Jedno jest pewne, David Finch cudownie rysuje Batmana. Idealnie oddaje monumentalność, powagę i siłę tej postaci. Sprawdza się też w przypadku czarnych charakterów, gdzie chociażby Ragdoll w jego wykonaniu wygląda przerażająco. Jakby tego było mało rysuje jedne z najseksowniejszych kobiecych bohaterek w komiksie, obowiązkowo w obcisłych, skąpych strojach. Graficznie komiks jest po prostu cudny.
Tylko prócz obrazków istnieje jeszcze historia. Za scenariusz odpowiada legendarny już twórca Marvela, który mimo wszystko przez kilka ładnych lat nie pisał Batmana. Widać, że nie czuje on tej postaci. Mroczny Rycerz zachowuje się dość nietypowo. Rusza do akcji ramię w ramię ze zwykłymi strażnikami, narażając ich na niebezpieczeństwo, wbrew temu co mówi, bardziej zależy mu na pokonaniu przeciwnika, niż uratowaniu niewinnych ludzi (skąd w ogóle wiedział, że trzeba sprawdzić co u Two-Face'a na zawsze pozostanie zagadką), no i przede wszystkim nie mówi jak Batman. Czy Zamaskowany Mściciel kiedykolwiek prosił wrogów o wyjście z podniesionymi rękami? Są w tym komiksie dialogi, które aż kłują w oczy. Początkowe przemówienie również nie powala na kolana, a jak najbardziej słuszną opinię o nim wyraził porucznik Forbes.
Policjant przybyły z Metropolis jest jak na razie najciekawszym wątkiem tego komiksu, a przy okazji to jedyne (miejmy nadzieję), co pozostało po poprzednich pięciu numerach ze starego uniwersum. Tym nie mniej widać tu pewną zmianę na lepsze w przedstawianiu świata. Mianowicie Bruce Wayne ma kłopoty z policją mimo że jest jedynie podejrzewany o wspieranie działalności samozwańczego stróża prawa. Stąd można podejrzewać, że gdyby publicznie się przyznał do finansowania Batmana, poszedłby siedzieć na długie, długie lata. Fani mogą odetchnąć z ulgą. Batman Incorporated się nie powtórzy.
No i tylko słowem dobrego zakończenia trzeba wspomnieć o dwóch nowych antagonistach, czyli White Rabbit i One-Face. Cóż… poczekamy i zobaczymy, jednakże cokolwiek wyjdzie dalej, pierwszy numer The Dark Knight jest po prostu przyjemnym, rozrywkowym komiksem.
Ocena: 3,5 nietoperka

---