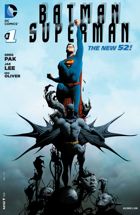 BATMAN/SUPERMAN #1
Tytuł historii: Cross World, Part 1
Data wydania: 26.06.2013 (USA)
Scenariusz: Greg Pak
Rysunki: Jae Lee, Ben Oliver
Okładki: Jae Lee, June Chung; Guillem March; Kenneth Rocafort
Kolor: June Chung, Daniel Brown
Liternictwo: Rob Leigh
Ilość stron: 32
Twoja ocena:

GD Star Rating
loading...
Nowa epopeja rozpoczyna się wraz z debiutem tej nowej regularnej serii! Nie przegap pierwszego brzemiennego w skutkach spotkania Batmana i Supermana The New 52!

Dwóch wielkich bohaterów, dwa wielkie nazwiska… Tak mógłbym określić nową serię Batman/Superman, która od początku była skazana na sukces. Duet najsławniejszych postaci ze świata DC doczekał się miejsca w odświeżonym uniwersum i ich nowy debiut stoi na naprawdę wysokim poziomie.
Historia opowiada o pierwszym spotkaniu Mrocznego Rycerza z Człowiekiem ze Stali. Inne spojrzenie na kodeks moralny oraz odmienne metody działania już od początku poróżniają herosów. Bruce Wayne przypomina tu swoje mroczne wcielenie z komiksów Franka Millera, zaś Clark Kent to dobrze znany czytelnikom wrażliwy chłopak, starający się pomóc potrzebującym. Ciężko na razie powiedzieć coś o fabule, ponieważ mamy tu do czynienia z pierwszym zeszytem, ale relacja pomiędzy protagonistami oraz dialogi to małe mistrzostwo. W następnych numerach zobaczymy jak scenarzysta poradzi sobie z główną intrygą.
Największą zaletą tytułu jest oprawa graficzna. Rysunki Jae Lee są realistyczne i bardzo szczegółowe, dzięki czemu komiks ogląda się obłędnie. Jeśli poziom prac nie spadnie w następnych odcinkach to będziemy mieli do czynienia z najładniejszą serią wydawaną obecnie przez DC Comics. Jedyny mankament w kwestii graficznej to zmiana rysownika pod koniec historii. Ben Oliver jest bardzo dobrym artystą, ale jego styl kompletnie nie pasuje do rysunków Jae Lee.
Pierwszy numer pomimo nieco szczątkowej fabuły dał znak, że popularna niegdyś seria może odrodzić się w chwale. Bardzo przypadła mi do gustu ilustracja z porównawczymi genezami bohaterów, będąca nawiązaniem do komiksu "Superman/Batman" Jepha Loeba. Nowy tytuł Grega Paka i Jae Lee ma potencjał stać się jedną z najlepszych serii z The New 52. Warto dodać, że będzie to chyba najmroczniejsza dostępna w tej chwili pozycja z przygodami Człowieka Nietoperza…
Ocena: 4,5 nietoperka

---
---