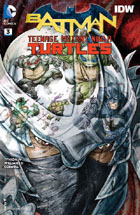 BATMAN/TEENAGE MUTANT NINJA TURTLES #3
Tytuł historii: Totally Awesome Team-Up
Miesiąc wydania (okładka): Kwiecień 2016 (USA)
W sprzedaży od: 10.02.2016 (USA)
Scenariusz: James Tynion IV
Rysunki: Freddie E. Williams II
Okładki: Freddie E. Williams II; Kevin Eastman i Tomi Varga
Kolor: Jeremy Colwell
Liternictwo: Tom Napolitano
Ilość stron: 32
Twoja ocena:

GD Star Rating
loading...
Żółwie najechały jaskinie Nietoperza i jej właściciel nie jest z tego zadowolony. Ale Batman jest skłonny odłożyć na bok swoje animozje i pomóc nieproszonym gościom w walce z ich największym wrogiem, Shredderem! Tymczasem Żółwie stają naprzeciw ponurej prognozy, która zakłada, że nigdy nie powrócą do swojego świata.
Iceberg Lounge. Pingwin sugeruje Shredderowi, że czas aby wrócił do domu. Po za tym inżynierowie wynajęci przez Cobblepota pomogli zbudować portal do innego wymiaru. Jego uruchomienie może pozbawić całe miasto prądu. Przywódca klanu ninja ma jednak inne plany, chce rządzić Gotham. Przypomina Pingwinowi, że teraz on i jego ludzie należą do klanu "Stopy". Oswald patrząc w gothamskie niebo, na którym widnieje znak nietoperza, stwierdza że noc dziś jest wyjątkowo spokojna. Shredder nakazuje przyprowadzić z celi porwanego doktora Khana. Pobity więzień nie spał od czterech dni. Próbuje przekonać ludzi Shreddera, że uruchomienie portalu spowoduje kolizje dwóch światów i co za tym idzie, śmierć miliardów ludzi. Jeden z wojowników odpowiada, że jako naukowiec Khan ma zapobiec kolizji. Nagle Batman obezwładnia żołnierzy i nakazuje więźniowi aby pobiegł schodami w dół, gdzie pod siedzibą Pingwina czeka na niego podwodna łódź ratunkowa. Naukowiec jest zdziwiony, że Mroczny Rycerz jest sam. Kto powiedział, że jestem sam – odpowiada Batman. W tym samym momencie żółwie atakują złoczyńców w głównej Sali Iceberg Lounge.
Parę godzin wcześniej w posiadłości Wayne'ów. Bruce pochyla się nad holograficzną mapą Gotham, aby odnaleźć zmutowanych przybyszów z innego wymiaru. Komputer namierza posiadłość Pingwina. Rozmowę Bruce'a i Alfreda przerywa alarm. Ktoś włamał się do jaskini. Michelangelo ujeżdża wielkiego T–Rexa. Donatello jest zachwycony sprzętem, który posiada Batman w swojej jaskini. Rafael próbuje przekonać Leonarda, że osobnik w stroju nietoperza, to niebezpieczny wariat. Ich kłótnię przerywa Batman. Mroczny Rycerz żąda wyjaśnień. Mistrz Splinter łagodzi napiętą sytuację mówiąc mu, że wie kto kryje się za maską nietoperza. Opowiada Batmanowi o świecie, z którego przybyli. Wyjaśnia także kim jest Shredder i organizacja, którą przewodzi. Wspomina także o Krangu, Rockstadym i Bebopie. Mroczny Rycerz postanawia pomóc Żółwiom w powstrzymaniu wrogich sił. Rozmowę przerywa Alfred ze strzelbą gotową do wystrzału. Batman uspokaja Alfreda mówiąc, że Żółwie mają pokojowe zamiary. Michelangelo jest zafascynowany lokajem, którego bierze za niezwykle zaawansowanego robota.
Iceberg Lounge. Żółwie i Batman walczą z ludźmi Shreddera, który z Pingwinem obserwuje całe starcie z drugiego piętra posiadłości. Donatello prowokuje go do zejścia na dół, jednak złoczyńca widząc, że nie ma szans w walce, wysadza w powietrze portal. W tym samym momencie na oczach Alfreda eksploduje klatka piersiowa doktora Khana. Widząc, że jedyna droga powrotu do domu zostaje zniszczona, Rafael w szale wskakuje na piętro i atakuje Shreddera. Niestety impulsywny żółw zostaje poważnie raniony przez wroga. Batman zamierza rannego żółwia przewieźć do jaskini. Oroku Saki ucieka przez dziurę w szklanym dachu doczepiając się do płozy helikoptera przelatującego nad kryjówką Pingwina. Na pokładzie maszyny na Shreddera czeka Ra's al Ghul z propozycją współpracy.
Trzeci zeszyt, to zdecydowanie lektura z solidnym scenariuszem i świetnymi rysunkami. Poprzedni epizod można, pod względem scenariusza, uznać za tzw. wypadek przy pracy. Bohaterowie w końcu ze sobą rozmawiają. Batman pomaga Żółwiom i gdy czytelnikom wydaje się, że wszystko zmierza do szczęśliwego końca, scenarzyści serwują nam dwa zaskakujące zwroty akcji. Nie dość, że sytuacja Żółwi i mistrza Splintera się pogarsza to, jakby tego było mało, na scenę wkracza Ra's al Ghul! Rysunki Freediego Williamsa z zeszytu na zeszyt są coraz lepsze. Widać, że rysownik dobrze się bawi rysując Żółwie i portretować Batmana w lekko cartoonowym stylu. Polecam ten zeszyt zarówno miłośnikom Mrocznego Rycerza jak i Wojowniczych Żółwi.
Ocena: 5 nietoperków

---