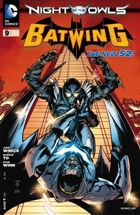 BATWING #9
Tytuł historii: You Have Been Judged Unworthy
Miesiąc wydania (okładka): Lipiec 2012 (USA)
W sprzedaży od: 02.05.2012 (USA)
Scenariusz: Judd Winnick
Rysunki: Marcus To
Okładki: Marcus To, Brain Reber
Kolor:Tusz: Ryan Winn
Liternictwo: Dezi Sienty
Ilość stron: 32
Twoja ocena:

GD Star Rating
loading...
Gotham City, rok 1856. Court of Owls postanawia, że nadszedł już czas by Alexander Staunton zakończył swoją pracę jako Talon, bo wykonując swoje zadania nie działa zbyt subtelnie.
Lucius Fox, Matu Ba i David Zavimbe rozmawiają na temat zmian w zbroi Batwinga. Następnie Fox zaprasza ich na galę organizowaną przez Batman Incorporated. W międzyczasie Court of Owls wypuszcza na Gotham City całą armie Talonów, bo nadszedł czas by odzyskali swoje królestwo.
David nie czuje się zbyt komfortowo na gali. Nie podoba mu się, że dla wyższego dobra obecny na niej jest też jeden z afrykańskich "premierów". Zavimbe nie ma jednak czasu na dłuższe rozmyślenie o tej sprawie, bo nagle w pomieszczeniu pojawia się dym.
Podczas gdy David odkrywa, że większość członków ochrony zabito, Matu Ba odbiera wiadomość na temat ataku Court of Owls.
Kiedy Talon po wyeliminowaniu ochroniarzy Foxa, ma zamiar zgładzić Luciusa, na miejscu zjawia się Batwing. Szybko go atakuje i jest pewny swego. Jednak nim David dowiaduje się, że jego przeciwnik może się regenerować, Staunton przechodzi do kontrataku. Batwing próbuje różnych swoich sztuczek, ale nic nie przynosi rezultatu.
Po wypadnięciu przez okno Talon bierze na zakładnika afrykańskiego ambasadora i żąda od Batwinga, by ten przyprowadził do niego Foxa. Lucius jest gotów oddać własne życie, ale David postanawia, zgodnie z radą Batmana od razu zakończyć walkę, kiedy jest taka możliwość. Wystrzeliwuje ładunki wybuchowe, które odrywają Stauntonowi ręce. Następnie związuje go i od razu zabiera go do zbrojowni, by tam go zamrozić.
W przypadku 9. numeru Batwinga już na samym początku pokazuje czytelnikom, że Winnick miał pomysł na wykorzystanie Court of Owls. Poznajemy nawet imię Talona, który ma zabić Luciusa Foxa, i który w odróżnieniu od innych zabójców Court of Owls nie działał on byt subtelnie.
Wizyta Zavimbe w Gotham City dobrze wkomponowała się w cały crossover. Wszystko ma ręce i nogi, a walka Davida z Talonem nie zawiera żadnych błędów. Zabójca Court of Owls regeneruje się i nie łatwo go pokonać i tylko dzięki informacjom przesłanym przez Alfreda Batwing wie, że przeciwnika należy zamrozić. Judd Winnic należycie, więc podszedł do całego crossoveru. Marcus To dodał do tego dynamiczne sekwencje akcji, w których zadbał o szczegóły na zbrojach bohaterów. Całość wypada, więc nadzwyczaj przyzwoicie. Może za wiele na temat Court of Owls się nie pojawia, ale jako pełny akcji numer Batwing #9 sprawdza się dobrze.
Ocena: 4 nietoperki

---