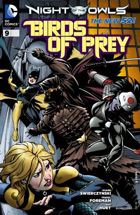 BIRDS OF PREY #9
Tytuł historii: Gangland Style
Miesiąc wydania (okładka): Lipiec 2012 (USA)
W sprzedaży od: 16.05.2012 (USA)
Scenariusz: Duane Swierczynski
Rysunki: Travel Foreman
Okładka: Jesus Saiz, June Chung
Kolor:Tusz: Jeffrey Huet
Liternictwo: Dave Sharpe
Ilość stron: 32
Twoja ocena:

GD Star Rating
loading...
Black Canary, Batgirl, Katana i Poison Ivy ryzykują w Gotham City swoje życie walcząc z Talonem i Court of Owls! Zostaje również ujawniona tajemnica dotycząca męża Black Canary… Kurta Lance'a?!
Gotham City, rok 1842. Miastem rządzą gangiem, ale oprócz nich jest także znacznie potężniejsza organizacja, Court. Wystarczyło, że wysłali jednego Talona, i walki między gangami ustały, bo zabójca wszystkich wykończył.
Gotham City, obecnie, 20:20. Podczas walki z Talonem Black Canary i Katana mają poważny problem. Nawet soniczny głos Dinah nie powstrzymuje przeciwnika. Zabójcą jest niejaki Henry Ballard, który nie raz z ulic Gotham usuwał różne szkodniki.
Dinah trenowała z Tatsu, kiedy skontaktowała się z nią Batgirl i przekazała co się dzieje. Wysłannik Court of Owls w pierwszej kolejności zaatakował jednak Poison Ivy. Z namierzeniem pozostałych bohaterek też nie miał większych problemów.
Kiedy nic nie przynosi skutku podczas walki z Talonem, Katana i Black Canary postanawiają się wycofać. Ukrywają się w pobliskim kościele, żeby opracować nowy plan, ale zabójca podąża za nimi. Kiedy jednak chce wejść do środka zaskakuje go pędząca swoim samochodem Starling, która po prostu taranuje Talonem ścianę budynku.
Chociaż wygląd zabójcy nasuwał bohaterce skojarzenia, że jest to jakiś wymysł Tima Burtona, to pod maską Talona nie kryje się Johnny Depp, ale starzec. Ballard od razu chwyta swoją przeciwniczkę za szyję, ta jednak się nie podaje i wpakowuje mu kilka kulek w brzuch. Talona to jednak nie powstrzymuje i kiedy jest bliski zabicia Starling niespodziewanie pętlę na jego szyję zarzuca Batgirl. Przeciwnik zostaje powieszony na wieży kościelnej. Barbara wyjaśnia przyjaciółkom, że trzeba go zamrozić, aby w pełni go unieszkodliwić, dlatego tuż po tym jak pod ciężarem Ballarda lina się urywa, bohaterki uciekają na pobliski dworzec kolejowy, gdzie mają nadzieje znaleźć zamrażarkę.
Kiedy bohaterki próbują zaciągnąć Talona do wagonu towarowego do przewozu mięsa, ten za pierwszym razem wydostaje się. Na szczęście na miejscu zjawia się Poison Ivy, która jeszcze z nim nie skończyła, a jako, że rośliny są wstanie przetrwać nawet w ekstremalnie niskich temperaturach, zamyka się razem z nim w wagonie. Przypomina jednak przyjaciółkom by nie zapomniały jej później wypuścić.
Birds of Prey #9 to czysta rozrywka na wysokim poziomie. Czytelnicy od razu zostają wrzuceni w sam środek akcji. Przeciwnikiem bohaterek jest zaś nie byle kto, ale Talon, który wyciął w pień praktycznie całe gangi w Gotham City w połowie XIX wieku. Działania Court of Owls czasami, więc przynosiły jakieś pozytywne aspekty.
Nie ważne, co robią bohaterki, nie są one wstanie po prostu powstrzymać Talona, a sięgają po naprawdę różne sztuczki. Straling ma wręcz uderzające wejście, ale wszystko to, to za mało na zabójcę Court of Owls.
Warto zwrócić uwagę na rysunki Travela Foremana, dla którego jest to debiut w Birds of Prey. Widok Talona z perspektywy bohaterek jest po prostu niesamowity, a same bohaterki też prezentują się tak jak powinny.
Historia Gangland Style może nic wielkiego nie wnosi do całego crossoveru, ale nie taki był zamiar twórców. Zrobili numer pełny akcji, w którym nie brakuje humoru. Jest to po prostu świetna, odprężająca rozrywka
Ocena: 4 nietoperki

---