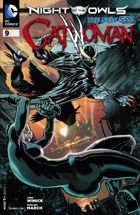 CATWOMAN #9
Tytuł historii: Mirros Come in all Sizes
Miesiąc wydania (okładka): Lipiec 2012 (USA)
W sprzedaży od: 16.05.2012 (USA)
Scenariusz: Judd Winnick
Rysunki: Guillem March
Okładka: Guillem March
Kolor:Liternictwo: Carlos M. Mangual
Ilość stron: 32
Twoja ocena:

GD Star Rating
loading...
Catwoman i Spark zmuszeni zostają chronić Pingwina przed Court of Owls!
Gotham City, rok 1665. Kiedy Talon miał zgładzić kolejny cel, uznał, że to nie honorowe zabijać mężczyznę błagającego o życie, który szykował się do spania. Zabójca dał mu sztylet i szansę na obronę. Ten jednak uciekł na zatłoczoną ulicę i wtedy także brytyjscy żołnierze zauważyli Talona. Nie mając innego wyjścia zabójca Court of Owls zabił wszystkich, ale przy okazji zgubił jeden z sztyletów. Po takiej wpadce Ephraim Newhouse został zmuszony do przejścia na emeryturę. Pozbawiono go również jego zbroi, tak by odszedł z poczuciem wstydu.
Gotham City, obecnie. Podczas gdy Catwoman i Spark szykują się by skraść Pingwinowi cenny sztylet z logo sowy, Court of Owls przywraca do życia Talonów. Ephraim Newhouse ma okazję by odkupić swoje winy. Musi zabić Pingwina.
Około 2 nad ranem Talon wdziera się do gabinetu Pingwina i od razu zamierza go zabić, ale jego uwagę przykuwa sztylet z logo sowy. Jest przekonany, że los mu wreszcie sprzyja i że odnalazł swoją zgubę.
Widząc, w jakich kłopotach znalazł się Pingwin, Spark sugeruje, że wraz z Catwoman powinni jak najszybciej się ulotnić. Bohaterka jednaka postanawia włączyć się do akcji. Chociaż Pingwin zasłużył sobie na śmierć, ale na pewno nie zasłużył sobie na tak nieuczciwą walkę. Z pomocą Sparka udaje jej się powstrzymać przeciwnika, a nawet wbić w jego szyję jeden z jego sztyletów. Jednak, kiedy bohaterowie są już pewni, że ich przeciwnik nie żyje, ten podnosi się i wyciąga wbity sztylet. Za pomocą bicza Catwoman zaczyna dusić Sparka, bo za wszelką cenę chce odzyskać swój dawno zaginiony sztylet. Selina powstrzymuje go, kiedy wspomina, że ma pozostałe sztylety, które odda mu jeśli ten oszczędzi Sparka. Kiedy Talon zaczyna rozważać nową propozycję, Pingwin przy użyciu swoje parasolowej broni wpakowuje mu kulkę prosto w głowę. Chociaż Spark sugeruje, żeby wziąć sztylety i zwiać, Catwoman przeczuwa, że cała sprawa z tajemniczym zabójcą jest znacznie poważniejsza. Dlatego zostawia związanego Talon z pięcioma sztyletami na dachu komisariatu policji i zapala Bat-sygnał.
Judd Winnick, jako scenarzysta kilku Bat-tytułów, należycie przygotował się do crossoveru Night of the Owls. Wydarzenia z Catwoman chronologicznie mają miejsce, przed głównym atakiem Talonów, dlatego trochę dziwne jest, że przed wprowadzeniem całego planu w życie najpierw wysłano zabójcę by wyeliminować Pingwina.
Sama opowieść bardzo dobrze wkomponowuje się w cały crossover. Scenarzysta już w poprzednim numerze zasugerował, co może spotkać Catwoman, tak więc wszystko ma ręce i nogi i Talon nie jest tu wrzucony na siłę. W Catwoman #9 poznajemy bliżej historię Ephraima Newhouse'a, który nie był perfekcyjnym Talonem. Jak widać już w przeszłości nie zawsze wszystko układało się pomyśli Court of Owls. Nie wątpliwe jednak wszyscy ich zabójcy znali się na swoim fachu, a za sprawą rysunków Marcha jest to doprawdy brutalny i przerażający Talon.
Włączenie w walkę z Court of Owls Catwoman nie było łatwym zadaniem, bo bohaterka nie stoi po stronie prawa. Winickowi udało się jednak w sensowny sposób nie tylko wplątać w całą akcje Selinę, ale także wytłumaczyć jej pomoc Pingwinowi. Może i jest w tym nuta naiwności, ale obserwując zachowanie Catwoman nie odczuwa się tego. Czytelnik zdaje sobie jednak sprawę, że w życiu Seliny doszło do pewnego punktu zwrotnego, a tym samym crossover z Night of Owls nie był wrzucony na siłę, tylko stanowi część większego planu.
Ocena: 4 nietoperki

---