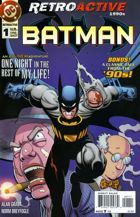 DC RETROACTIVE: BATMAN – THE '90s
Tytuły historii: One Night In The Rest of My Life; Trash
Miesiąc wydania (okładka): Październik 2011 (USA)
W sprzedaży od: 17.08.2011 (USA)
Scenariusz: Alan Grant
Rysunki: Norm Breyfogle
Okładka: Norm Breyfogle, Carlos Badilla
Kolor: Carlos Badilla, Andrew Elder; Adrienne Roy
Liternictwo: Carlos M. Mangual; Todd Klein
Ilość stron: 56
Twoja ocena:

GD Star Rating
loading...
"One Night In The Rest of My Life"
Scenariusz: Alan Grant
Rysunki: Norm Breyfogle
Kolor: Carlos Badilla, Andrew Elder
Liternictwo: Carlos M. Mangual
Ilość stron: 26
Po obejrzeniu wiadomości na temat zwolnienia Arnolda Weskera, Brzuchomówcy, Batman od razu postanawia udać się na patrol.
Na miejskim wysypisku w wyniku działań różnych ożywa Big Mel, który od razu zabija strażnika.
W nocy Batman przerywa transakcję gangu Street Demons. Później w okolicy zauważa jednego z głównych ludzi Scarface'a, Bobby'ego Vina, który nie jest zadowolony z faktu, że policja aresztowała członków gangu.
Z okazji wypuszczenia na wolność Brzuchomówcy w Gotham Museum of Natural History odbywa się specjalne przyjęcie. Widząc Vina cara face nie ejst nim zachwycony, bo wie, że ten za jego plecami rozpogadzał towar za pomocą członków gangu Street Demons.
Tymczasem wracający swoją taksówką do domu Mike Riley zostaje aatakowany przez zombie Big Mela. Po tym jak wyjaśni mu, że to nie była jego wina, tylko Scaraface'a, ten puszcza go wolno.
Kiedy Batman zauważa, że Scaraface naprawdę chce usmażyć Bobby'ego Vina postanawia to przerwać. Ale tego właśnie spodziewał się złoczyńca i natychmiast jego ludzie wyciągają broń. Ich uwagę jednak przykuwa pojawienie się Big Mela, którego kilka miesięcy temu Scaraface'a zabił, a ciało kazał porzucić na wysypisku. Wykorzystując powstałe zamieszanie Batman rozprawia się z ludźmi złoczyńcy i rusza na pomoc Arnoldowi. Walka z zombie nie jest jednak prosta. W wyniku starcia bohaterowie wypadają przez okno i lądują wprost na taksówce Rileya, który właśnie wiózł swoją spodziewającą się dziecka żonę do szpitala. Na prośbę mężczyzny Batman najpierw zajmuje się ciężarną, a dopiero, kiedy cała taksówka zaczyna płonąć w ostatniej chwili ratuje Mike'a. Szczęśliwym rodzicom rodzi się zdrowy syn.
Komiksy wydawane w USA w latach 90-tych nie są obce polskim fanom za sprawą Tm-Semic, które co miesiąc dostarczała czytelnikom nową opowieść o Nietoperzu. Dlatego też twórczość duetu Grant/Breyfogle jest im bardzo blisko. Można, więc wyobrazić sobie większą przyjemności niż sięgnięcie po nową historię od tych twórców? Wydaje się, że nie, ale niestety nie zawsze dostajemy to, czego oczekujemy.
W założeniu One Night In The Rest of My Life kontynuuje wątki z ich wcześniejszych historii. Ale tym razem nowej opowieści Alana Granta do zbytnio udanych zaliczyć nie można. Żywy trup? Skąd tak absurdalny pomysł? Również kompletnie nie został wykorzystany potencjał Brzuchomówcy, ale tak naprawdę największym rozczarowaniem są rysunki. Tak, styl Norma Breyfogle'a w porównaniu do lat 90-tych bardzo się zmienił na minus. Postacie są takie kreskówkowe. Nie wiedząc, że to Norm jest autorem tych rysunków łatwo byłoby je przypisać komuś innemu. Być może fakt, że zazwyczaj przeceniamy pewne rzeczy z przeszłości sprawia, że tym bardziej DC's Retroactive: Batman 1990's jest tak rozczarowujący, bo porostu nie dorównuje wspomnieniom? Jedno jednak można stwierdzić, że po duecie Grant/Breyfogle można spodziewać się czegoś lepszego.
Dodatkowo w numerze znajduje przedruk oryginalnej historii Granta i Breyfogle'a z lat 90-tych, która pierwotnie ukazała się w Detective Comics #613.
Ocena: 3 nietoperki

---