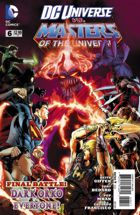 DC UNIVERSE VS. THE MASTERS OF THE UNIVERSE #6
Tytuł historii: Cracking Skulls
Miesiąc wydania (okładka): Maj 2014 (USA)
W sprzedaży od: 26.03.2014 (USA)
Scenariusz: Keith Giffen, Tony Bedard
Rysunki: Pop Mhan, Eduardo Francisco
Okładka: Bernard Chang
Kolor: Veronica Gandini, Rex Lokus
Liternictwo: Deron Bennett
Ilość stron: 32
Twoja ocena:

GD Star Rating
loading...
Wszystko się zakończy gdy bohaterowie DC i Master of the Universe staną razem do walki ze Szkieletorem i jego mrocznym panem. Stawką jest równowaga obu światów.
Opętani mocą Mrocznego Orko, złoczyńcy i herosi otaczają dom sekretów. Rozpoczyna się nierówna walka. Przybyszom z Etherni i Lidze Mroku przewodzi Szkieletor, który jest wściekły na Dark Orko. W czasie gdy na zewnątrz trwa walka, Batman próbuje namówić Black Alice, aby swoją mocą cofnęła zły czar. Kobieta zgadza się i wszyscy opętani wracają do normy.
Książę Adam szuka kryjówki Orko w świecie Troll. Niestety przeciwnik zauważa go pierwszy. Książę Adam skacze w stronę maga wypowiadając słowa przyzywające He–Mana i znika w czeluściach płaszcza czarownika. Wiedząc, że Orko gdy byli przyjaciółmi wszystkie skarby trzymał przy sercu wie gdzie jest Superman. Nie mylił się, w centrum otchłani lewituje uwięziony heros. He–Man uwalnia zaskoczonego Kryptończyka i ramię w ramię stają do walki z armią wysłaną przez Orko. Superman stwierdza, że ciężko mu się walczy w magicznym wymiarze. He-Man rzuca mu swój legendarny miecz do pomocy.
Bohaterowie w różnych częściach globu unieszkodliwiają magiczne filtry i cała zgromadzona w nich energia powraca do Dark Orko. W tym momencie Szkieletor przechodzi przez wrota między wymiarowe i atakuje niedawnego sojusznika. Niestety nie ma szans z nim wygrać. Za karę Mroczny trol odbiera mu moce, które zdobył dzięki niemu. Szkieletor wraca do swojej zwyczajowej postaci, ale wciąga go do ziemskiego wymiaru. Tam na władcę Troll czeka już cała armia superbohaterów, gotowa do ataku. Superman przy pomocy swojego rentgenowskiego wzroku odkrywa słaby punkt przeciwnika i rzuca w to miejsce miecz He-Mana. Oręż wbija się w przeklętą czaszkę Hordaka Prime. W tej sekundzie He–Man wypowiada inwokacje ku czci Grey Skull i magiczny piorun uderza w przeklęty artefakt. Orko traci całą swoją siłę i wraz z atakującym go Szkieletorem zostają wysłani przez Constantina do nieznanego wymiaru.
Bohaterowie cieszą się ze zwycięstwa, a przybysze z Etherni wracają na swoją planetę. Zaskoczony Batman pyta się królowej Marleny dla czego nie wraca z synem i przyjaciółmi na Ethernie? Kobieta z żalem stwierdza, że nie może wrócić do swojego świata bo Szkieletor rzucił na nią klątwę. Książę Adam żegna się z matką i obiecuje, że znajdzie sposób aby mogła powrócić do domu. Teraz Władców wszechświata czeka wojna z siłami Hordaka i być może Szkieletora, który według Man-At-Arma zawsze wraca.
Superman uśmiechając się do Wonder Woman i Batmana oferuje temu ostatniemu odbudowę uszkodzonej jaskini, a na pytanie Clarka co sądzi o przybyszach? Mroczny Rycerz odpowiada: "Uhhh myślałem, że nigdy nie odejdą".
Szósty ostatni numer tej mini-serii nie jest zaskoczeniem. Wszystko dobrze się kończy, przynajmniej dla Ziemi. Rysownicy na paru panelach rozrysowali całą "epicką" potyczkę, która nie robi wrażenia, niestety. Wydawca przyspieszył wydanie ostatniego numeru o parę tygodni, cóż za parę miesięcy dostaniemy wydanie zbiorcze tej średniej historii. Sto dwadzieścia stron, będących mimo wszystko miłym czytadłem i przerywnikiem, między regularnymi seriami komiksów ze świata DC i MOTU. Serię polecam jedynie zagorzałym fanom crossoverów. Przeciętny czytelnik szybko zapomni o całej historii i pewnie niejeden z nas zacytuje w duchu słowa wypowiedziane przez Batmana na ostatniej stronie. Choć we wszechświecie He–Mana i spółki wydarzenia tu opisane będą jeszcze długo odbijać się echem. Niestety wydaje mi się, że na czytelnikach nie zrobią takiego wrażenia.
Ocena: 3 nietoperki

---