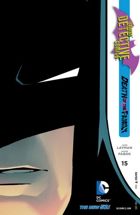 DETECTIVE COMICS #15
Tytuły historii: The Dirt Nap; Love in Bloom
Miesiąc wydania (okładka): Luty 2013 (USA)
W sprzedaży od: 05.12.2012 (USA)
Scenariusz: John Layman
Rysunki: Jason Fabok; Andy Clarke
Okładka: Greg Capullo i FCO Plascencia
Kolor:Liternictwo: Jared K. Fletcher; Taylor Esposito
Ilość stron: 40
Twoja ocena:

GD Star Rating
loading...
Tie-in "Death of the Family"!
Co Joker zrobił Pingwinowi?
Gościnnie Poison Ivy i Clayface!

"The Dirt Nap"
Scenariusz: John Layman
Rysunki: Jason Fabok
Kolor: Jeromy Cox
Liternictwo: Jared K. Fletcher
Poison Ivy zostaje zakopana żywcem 6 stóp pod ziemią. Jej życie jest zagrożone i desperacko potrzebuje pomocy.
Clayface próbuje wydobyć od Batmana informacje na temat miejscu pobytu Pameli. Przypomina sobie swój ślub w Vegas z Ivy do którego doszło miesiąc temu. Od tego czasu świetnie się razem bawili, zwłaszcza Pamela, które kontrolowała swojego partnera. Bruce'owi nie udaje się przemówić swojemu przeciwnikowi do rozumu, który cały czas jest pod wpływem Ivy, dlatego obezwładnia go przy użyciu wyrzutni haków i następnie odlatuje Batwingiem.
W kasynie Ogilvy przekazuje Pingwinowi dobre wieści, że problem z Poison Ivy został rozwiązany. Oswald ma na głowie jednak inne sprawy związanie z wyświadczeniem przysługi Jokerowi. Pozostawia wszystko w rękach Ogilvy'ego, który wcale nie traktuje już Pingwina jak swojego szefa.
Po analizie kwiatu postawionego przez Ivy oraz ostatnich działań Clayface'a Bruce odkrywa, że wszystkie jego szczęśliwie wspomnienia z Pamelą, to fikcja. Wiedząc z czym ma do czynienia bohater wyrusza by powstrzymać Clayface'a, który cały czas szaleje na ulicach Gotham. Wyposażony w specjalny kombinezon i maskę gazową Batman zbliża się do złoczyńcy. Przy użyciu środków przeciw chwastowych i domieszki napalmu zamierza oczyścić Basila. Jak się okazuje Ivy nie ożeniła się z Clayface'em tylko zasadziła w nim rzadką roślinę z Amazonki wywołującą halucynacje. Po odkryciu prawdy Basil jest jeszcze bardziej wściekły i ucieka do kanałów.
Poison Ivy niespodziewanie zostaje odkopana przez Ogilvy'ego. Jak się okazuje mężczyzna już nie pracuje dla Pingwina, wiedział również, że posiadająca zdolność fotosyntezy bohaterka przetrwa pod ziemią. Teraz ma zamiar przejąć znaczną część imperium Oswalda i mianować się Cesarzem Pingwinem.
---
"Love in Bloom"
Scenariusz: John Layman
Rysunki: Andy Clarke
Kolor: Blond
Liternictwo: Dezi Sienty
Clayface odczytuje list od Ivy i przypomina sobie dzień, w którym otrzymał pierwszy z nich. W kopertach oprócz listów miłosnych znalazły się także kwiaty. Po pewnym czasie pod ich wpływem zaczął wierzyć w świat wykreowany przez Ivy w listach, a wszystko zostało jeszcze bardziej spotęgowane, kiedy go odwiedziła. Clayface ma już jednak dość bycia wykorzystywanym udaje się więc do sekretnej kryjówki, w której miał spotkać się z Pamelą. Ku jej zaskoczeniu nie jest już słodkim Basilem, ale pragnącym zemsty Clayface'em.
Chociaż na okładce widnieje informacja, że jest to część Death of the Family, to tak naprawdę fani Jokera nie mają tu czego szukać. Łotr się co prawda pojawia, ale cały czas pozostaje w cieniu. Seria Detective Comics potrafi jednak się obronić własnymi historiami. Część dalsza opowieści związanej z Pingwinem, Clayface'em i Poison Ivy nie byłaby specjalnie godna uwagi gdyby nie zakończenie. W numerze tym dowiadujemy się bowiem, kto tak naprawdę ma zamiar tytułować się mianem – Cesarz Pingwin. Ku zaskoczeniu przydomek ten wcale nie odnosi się do Oswalda. Zapowiada się bardzo interesująca walka o władzę nad przestępczym światkiem Gotham City.
Za sprawą rysowników Jasona Faboka i odpowiadającego za dodatkową historię Andy'ego Clarke'a numer jest bardzo przyjemny dla oku. Nie jest to zasługa tylko obecności różnych złoczyńców, ale także pokazanie nowego stroju Batmana do stosowania środków chwastobójczych. Może jest zbyt kolorowy i przypomina poniekąd lata 70-te, ale zawsze to coś nowego.
Detective Comics #15 to numer z kilkoma dobrymi momentami, które mogą być zwiastunem czegoś lepszego.
Ocena: 4 nietoperki

---