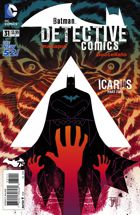 DETECTIVE COMICS #31
Tytuł historii: Icarus, Part 2
Miesiąc wydania (okładka): Lipiec 2014 (USA)
W sprzedaży od: 07.05.2014 (USA)
Scenariusz: Brian Buccellato
Rysunki: Francis Manapul
Okładki: Francis Manapul; Mike Allred
Kolor: Brian Buccellato
Liternictwo: Jared K. Fletcher
Ilość stron: 32
Twoja ocena:

GD Star Rating
loading...
Śmierć przychodzi do Wayne Manor – a głównym podejrzanym jest Bruce Wayne! Aby rozwiązać tę zagadkę, dochodzenie Batmana doprowadzi go do tajemniczego mężczyzny znanego jako Sumo!
Badając sprawę śmierci Eleny Aguili Harvey Bullock przypomina sobie jak 6-lat wcześniej wraz ze swoim ówczesnym partnerem prowadził śledztwo dotyczące nowego narkotyku zwanego Icarus. Jego partner zapłacił życiem i wydawało się że Gotham wreszcie jest wolne od zabójczej substancji. Tak było aż do dziś.
Bullock jest wściekły i próbuje przycisnąć Wayne'a, gdyż uważa, że to on zdobył gdzieś Icarusa.
W nocy Batman bada ślady, które potwierdzają, że ktoś wstrzyknął Elenie zabójczy narkotyk. Sprawa wydaje się prosta, wystarczy wytropić narkotyk, ale Bruce obawia się, że kierowany przez emocje Bullock może zrobić coś głupiego, dlatego musi się śpieszyć.
Następnego dnia Bullock szykuje się do przesłuchania kilka drobnych handlarzy od których chce wydusić przyznanie, że ci sprzedali narkotyk Wayne'woi. Kiedy jednak przychodzi do ich celi okazuje się, że ci już zostali zabici przez innych zatrzymanych.
Bruce pod przykrywka stara się w niebezpiecznych rejonach miasta kupić Icarasa. W końcu udaje mu się trafić na potencjalnego dostawcę, ale kiedy tylko pada nazwa narkotyku, Bruce otrzymuje kulkę z shotguna. Udaje mu się jednak podrzucić nadajnik.
Po pogrzebie Eleny Aguili, na którym zabrakło jej córki, Bruce ponownie wdaje się w rozmowę z Harveyem. Jako, że badania wykazały, że miliarder nie brał żadnych zakazanych substancji, Wayne radzi by policjant skoncentrował się na innych tropach i podążał za dowodami.
Tymczasem Annie Aquila na własną rękę próbuje namierzyć źródło Icarusa.
Sygnał z podrzuconego nadajnika doprowadza Batmana do kontenera w którym przetrzymywano dzieci. Interesu handlu ludźmi pilnuje Sumo, który od razu atakuje Nietoperza. Bohater nie ma większych problemów z pokonaniem go, ale okazuje się, że ten nie ma nic wspólnego z zabójstwem Eleny.
Z faktu, że Batman zajął się Sumo, korzysta Holter i jego ekipa, którzy przenoszą z portu źródło Icarusa w inne miejsce.
Śmierć Eleny Aguili na progu rezydencji Wayne'ów, powoduje że sprawa związana z Icarusem nabiera tempa. Stare rany Bullocka zostają rozdrapane i ten za punk honoru stawia sobie rozwiązanie tej sprawy. Niestety podąża w złym kierunku i z maniakalnym nastawieniem podejrzewa Wayne'a. Batman rozpoczyna swoje śledztwo i przy okazji natrafia na szajkę handlarzy ludźmi, i nawet nie zdaje sobie jak blisko był zamknięcia sprawy.
Wydawać by się mogło, że jest to detektywistyczny numer jakiego oczekujemy po tej serii. Mamy śledztwo policji i Batmana, przesłuchania, działania pod przykrywką i też trochę akcji, świetnie zilustrowanej przez Manapula. Całości jednak cały czas czegoś brakuje i mimo ciekawych elementów nie wciąga tak jak powinna. Chociaż kierunek obrany przez nowy duet twórców jest odpowiedni, to nawet śmierć Eleny nie jest tak dużym dramatem, a jeśli nie znamy wydarzeń z Flash #25 to również reakcja Harveya wydaje się nie w pełni zrozumiała. Już w poprzednim numerze powinna pojawić się chociażby drobna informacja przybliżająca wydarzenia z Zero Year, które rozegrały się na łamach Flasha, niestety tych zabrakło, a twórcy zakładają, że czytelnicy są zaznajomieni z ich wcześniejszą historią, przez co nie wszystkie elementy są tak wymowne jak powinny.
Ocena: 4 nietoperki

---