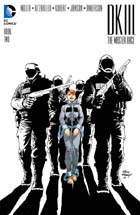 DARK KNIGHT III: THE MASTER RACE #2
Tytuły historii: DKIII The Master Race Book Two; Dark Knight Universe Presents: Wonder Woman #1
W sprzedaży od: 23.12.2015 (USA)
Scenariusz: Brian Azzarello, Frank Miller
Rysunki: Andy Kubert
Okładki: Klaus Janson, Andy Kubert; Frank Miller i Alex Sinclair; Klaus Janson i Brad Anderson; Jim Lee; Scott Williams i Alex Sinclair; Cliff Chiang; Eduardo Risso i Trish Mulvihill; Sean Gordon Murphy i Matt Hollingsworth
Kolor: Brad Anderson
Tusz: Klaus Janson
Liternictwo: Clem Robins
Ilość stron: 54
Twoja ocena:

GD Star Rating
loading...
Epicki koniec, którego nigdy się nie spodziewaliście jest tutaj, ponieważ tego chcieliście! Mroczny Rycerz ponownie wkracza do akcji by zmierzyć się rasą panów!
"DKIII The Master Race Book Two"
Scenariusz: Brian Azzarello, Frank Miller
Rysunki: Andy Kubert
Kolor: Brad Anderson
Tusz: Klaus Janson
Liternictwo: Clem Robins
Caroline Keene Kelly zostaje zabrana do radiowozu, powtarzając cały czas, że Bruce Wayne nie żyje. Prawie miesiąc później, Yindel przesłuchuje ją, chcąc zrozumieć jej obsesję działaniami Batmana i to, jak zginął Wayne. W końcu dziewczyna wyjaśnia, że Bruce nigdy nie wyzdrowiał po walce, jaką stoczył trzy lata temu. Umarł, kiedy czuwała przy jego łóżku. Zapytana co zrobiła z ciałem, z miną godną Jokera odpowiada, że je zjadła. Yindel nie wierzy w jej opowieść, ale to i tak nie ma znaczenia.
Tymczasem Ray Palmer pracuje nad uratowaniem Kandorczyków. Lara dostaje jednak wezwanie od matki i opuszcza go.
W Gotham, Caroline jest eskortowana policyjną ciężarówką. Nagle konwój zostaje zaatakowany przez czołg Batmana, w jakim Bruce stoczył niegdyś walkę z gangiem mutantów. Policja przekonuje się, że maszyna jest pusta, ale dziewczyna znika. Jak? Nikt nie zauważa jej ukrytej pod podwoziem.
Rayowi udaje się przestroić urządzenie tak, by powiększyło Kandorczyków. Udaje się na odludną plaże i uwalnia ich z Kandoru, przywracając normalny wzrost. Orientuje się, że to był jednak wielki błąd, gdy widzi kapłana i jego świtę mordujących innych mieszkańców zabutelkowanego miasta. Niestety sam ginie, a kapłan niszczy Kandor.
W Gotham Caroline przybywa do jaskini, gdzie spotyka Bruce'a Wayne'a. Żywego, choć chodzącego o kuli.
---
"Dark Knight Universe Presents: Wonder Woman #1"
Scenariusz: Brian Azzarello, Frank Miller
Rysunki: Eduardo Risso
Kolor: Trish Mulvihill
Liternictwo: Clem Robins
Lara przybywa do Amazonek na dalsze lekcje z matką. Jest jednak w wieku buntu. Stwierdza, że nie jest taka, jak Wonder Woman, jest Kryptonianką i po sparingu z matką, który wygrywa, odlatuje.
BRUCE WAYNE NIE ŻYJE
Te słowa raz za razem powtarza schwytana Caroline, która udawała Batmana. Bruce Wayne umarł. W jaki sposób? Przesłuchującej ją Yindel udaje się wydobyć opowieść o tym, jak trzy lata temu, po walce, która skończyła "Kontratak Mrocznego Rycerza" Bruce nigdy nie powrócił do zdrowia. Odniesione rany rzuciły go na łóżko, zmarł w towarzystwie Caroline. Co się stało z ciałem? "Zjadłam je", odpowiada z bliskim Jokerowi uśmiechem dziewczyna.
Tymczasem córka Supermana z pomocą Raya Palmera i Baala stara się pomóc Kandoryczkom…
Bardzo fajny komiks. Udany początek, niezłe pociągnięcie akcji i… oczywisty finał tego zeszytu. Zepsuta też została część z Kandorem, której brak inwencji i pomysłowości. Z drugiej strony dobrze się dzieje, że zeszyt kończy się tak, jak się kończy – dzięki temu wreszcie można przejść do tego, co powinno nastąpić. Choć zarazem szkoda, że zamiast zrobić coś nieoczywistego, coś wieloznacznego i wstrząsającego, uderzono jednak w sztampę.
Rysunkowo jest świetnie. Kubert z Jahnsonem powielają znakomicie kreskę Millera z lat 80, łącząc ją z nowoczesnością. Niezły kolor, udana także strona graficzna w dodatku o Wonder Woman, za którą wziął się Risso – bardzo do kreski Millera od zawsze ciążący. Oprawa więc podwyższa ostateczną ocenę. A czy całość będzie miało sens, czy jednak pogrąży się jak "DK2", jak zwykle, czas pokaże.
---