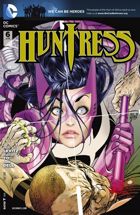 HUNTRESS #6
Tytuł historii: Crossbow at the Crossroads, Part Six
Miesiąc wydania (okładka): Maj 2012 (USA)
W sprzedaży od: 07.03.2011 (USA)
Scenariusz: Paul Levitz
Rysunki: Marcus To
Okładka: Guillem March
Kolor: Andrew Dalhouse
Tusz: John Dell
Liternictwo: Carlos M. Mangual
Ilość stron: 32
Twoja ocena:

GD Star Rating
loading...
Czytając w porannej prasie doniesienia o śmierci Chairmana sprawiają, że Ibn Hassan pragnie zemsty, a zapewnienia ambasadora, że bohaterka zostanie aresztowana mu nie wystarczają. Dlatego wyznacza nagrodę w wysokości 1 miliarda euro za głowę Huntress.
Policji udało się zdobyć zdjęcia z kamer bezpieczeństwa przedstawiające bohaterkę bez maski, dlatego Helena jest zmuszono do ucieczki, kiedy na jednej z lokalnych dróg natrafiła na blokadę policyjną. Chociaż funkcjonariusze próbują ją aresztować, to udaje się jej ukraść morówkę i bezpiecznie odpłynąć.
Po tych wydarzeniach Helena kontaktuje się z Alessandro, który przekazuje jej złe wieści na temat nagrody i akcji policyjnej, ale ma też dobrą wiadomość, bo wie, że Ibn przebywa na Capri.
Pod osłoną nocy Huntress zakrada się do fortecy, w której przebywa Ibn. Przez system kanalizacyjny dostaje się do basenu i wykorzystując element zaskoczenia nokautuje dwóch strażników. Następnie zakrada się do pokoju Hassana. Po obudzeniu się, przerażony widokiem mierzącej do niego z kuszy bohaterki, mężczyzna prosi ją o litość i obiecuje, że zwróci wolności kobietom z Kufry i odwoła nagrodę za głowę Huntress. Helena zgadza się na jego propozycję, ale ostrzega, że jeśli tylko sprzeda jedną dziewczynę, to wróci by wyrównać rachunki. Jeśli zaś chodzi o nagrodę, każe mu ją podwoić, a jeśli nikt jej nie złapie jej w ciągu roku, to wtedy pieniądze mają trafić do organizacji charytatywnej zajmującej się maltretowanymi kobietami.
Na lotnisku Helena próbowała odlecieć z Włoch, ale zostaje zauważona przez policję. Skacząc po kontenerach i unikając wystrzeliwanych kul bohaterka wpada wprost na Power Girl, która zabiera ją do Japonii, gdyż tam jest już gotowy nowy tunel kwantowy.
Gdzie jest Giuseppe? Tego nie wiadomo. Tak liczyłem na jego powrót, ale otrzymałem tylko wielkie rozczarowanie. I to właśnie za brak rozwinięcia jego wątku ocena niższa o pół nietoperka.
Miniseria rozpoczęła się całkiem przyzwoicie, ale im dalej tym gorzej. Kolejne działania Huntress były, co raz bardziej schematyczne i nawet rysunki Marcusa To nie mogły tego wynagrodzić. Patrząc na całą serię wydaje się, że gdzieś w połowie postanowiono zmienić koncepcje, przez to końcówka nie ma wiele do zaoferowania, a niektóre motywy wydają się być wrzucone na siłę. Mam nadzieje, że taki był powód, bo jeśli Levitz od początku wszystko zaplanował tak jak zostało to przedstawione w Huntress to nie wróży do dobrze World's Finest.
Jeśli ktoś liczył, że zakończenie miniserii rzuci więcej światła na Helenę Wayne, to się przeliczył, bowiem pojawienie się Power Girl, która ratuje z opresji bohaterkę, to zdecydowanie za mało.
Ocena: 2,5 nietoperka

---