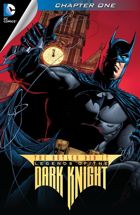 LEGENDS OF THE DARK KNIGHT #1
Tytuł historii: The Butler Did It
Data wydania: 07.06.2012 (USA)
Scenariusz: Damon Lindelof
Rysunki: Jeff Lemire
Okładka: Ethan Van Sciver, Brian Miller (Hi-Fi)
Kolor: Jose Villarrubia
Liternictwo: Saida Temofonte
Ilość stron: 23
Twoja ocena:

GD Star Rating
loading...
Na początku swojej kariery w roli Batmana, Bruce Wayne otrzymuje zaskakująco brutalną lekcję pokory!
Batman zwykł lubić deszcz. Jego odgłos sprawiał, że czuł się bezpiecznie. Tak było do czasu, aż zrozumiał, że nie ma czegoś takiego jak pokój. Jest tylko wojna. Od 6 miesięcy Batman walczy z przestępczością w Gotham i chociaż od tego czasu jego przeciwnicy wyciągnęli pewne wnioski, to także i on czegoś się nauczył. Jak przystało na inteligentnego mężczyznę przystosował się do nowych warunków i w pełni oddał się swojej sprawie. Dlatego zawsze potrafi znaleźć szumowiny. Tym razem podczas deszczowej nocy natrafia na zbira, który w alejce napada na bezbronną rodzinę z dzieckiem.
Batman ostrzega zbira, że pobije go tak, że ten straci przytomność, po to by zapamiętał, by nie atakować dzieci i rodzin. Tym razem sytuacja jest trochę inna. Okazuje się osoby, którym chciał pomóc Batman nie są tym za kogo ich uważał. Wszystko jest misternie przygotowaną pułapką. Mężczyzna i kobieta oraz facet postury dziecka zaczynają bić Batmana. Podczas kolejnej serii ciosów bohater zaczyna się zastawiać, który ze złoczyńców poznał jego sekret i wynajął tych zbirów.
Bruce przypomina sobie noc, podczas której będąc lekko pod wpływem alkoholu opowiedział Alfredowi o tym, że fakt, że nie ma słabego punktu sprawia, że jest lepszym bohaterem niż ci mogący latać, czy obdarzeni magicznym pierścieniem. Wszyscy oni mają supermoce, a to oznacza, że mają jakąś słabość. Jak np. kryptonit, czy żółty kolor. Alfred do końca nie zgadza się ze swoim paniczem. Uważa, że każdy ma jakąś słabość, ale nie zdradza, jaki według niego jest słaby punkt Bruce'a.
Po tym jak Batman zostaje mocno poobijany, pojawia się mężczyzna, który oświadcza zbirom, że już wystarczy. To Alfred. Lokaj podchodzi do rannego Batmana i wyjmuje z jego pasa jednego dolara, o którego się założyli. Teraz Bruce się zgadza, że każdy ma jakąś słabość.
Wybranie tytułu Legends of the Dark Knight jest bardzo trafne. Nowa seria dostępna dystrybucji cyfrowej nie należy wchodzi bowiem w skład kontinuum nowego DCU, a to oznacza, że twórcy nie muszą się zastanawiać co obecnie robi Batmana, ani też jaki Robin mu pomaga. Jeśli więc lubicie historie, które są oderwane od głównego nurtu to seria ta powinna przypaść wam do gustu.
Historia The Butler Did It jest dobrym początkiem nowej serii. Nie jest to, co prawda coś odkrywczego i wybitnego, ale czyta się naprawdę bardzo dobrze. Lemire swoimi rysunkami potrafi natomiast nadać odpowiedni klimat.
Batman, który daje się pobić zwykłym rzezimieszkom to niecodzienny widok, ale dobrze wiedzieć, że Alfred potrafi sięgnąć po naprawdę niestandardowe metody, po to by dać swojemu paniczowi cenną lekcję, dzięki, której ten będzie jeszcze lepszym Batmanem.
Ocena: 4,5 nietoperka

---