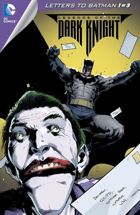 LEGENDS OF THE DARK KNIGHT #7
Tytuł historii: Letters to Batman, Part 1
Data wydania: 19.07.2012 (USA)
Scenariusz: Steve Niles
Rysunki: Trevor Hairsine
Okładka: Trevor Hairsine, Antonio Fabela
Kolor: Antonio Fabela
Liternictwo: Saida Temofonte
Ilość stron: 23
Twoja ocena:

GD Star Rating
loading...
Po kolejnej ucieczce szaleńca z Arkham Asylum, Batman zaczyna się zastanawiać nad swoim wpływem na przestępczość w Gotham City.
Kolejny raz w miesiącu pewien szaleniec próbuje wysadzić szkołę. Batman zjawia się tuż przed policją i znowu nokautuje Jokera i nie dopuszcza do tragedii. Następnie ponownie zabiera szaleńca do Arkham Asylum z nadzieją, że tym razem tak szybko im nie ucieknie.
W jaskini Bruce ogląda swoje rany. Nie jest zainteresowany jedzeniem, ale Alfred ma dla niego także złe wieści. Joker ponownie uciekł z celi. Batmanowi zostawił na miejscu drobny prezent. Po jego rozpakowaniu okazuje się, że jest to miniatura obrotowych drzwi z wiadomością: "Równie dobrze możesz nie istnieć".
Bruce zaczyna mieć wątpliwość, co do swojej misji, bo niezależnie od tego co zrobi efekty jego pracy wydają się nic nie zmieniać. Alfred nie zgadza się z jego opinią i radzi mu by nie dopuszczał, by Joker nim zawładnął. Rozmowa bohaterów zostaje przerwana przez dzwoniący czerwonego telefon. Po krótkiej rozmowie Batman zgadza się spotkać z Gordonem.
Na dachu komisariatu James w odpowiedzi na pytanie na temat ucieczek Jokera, stwierdza, że złoczyńcy musi pomagać ktoś z wewnątrz. Oprócz tego Gordon ma coś jeszcze dla Batmana. Okazuje się, że od lat do bohatera Gotham City wysyłane są listy, które do czasu skomputeryzowania systemów policyjnych gromadzone były w archiwach, teraz komisarz postanowił dostarczyć je do odbiorcy.
Przez ostatni rok na próżno było szukać nowych historii z Jokerem, a teraz, kiedy zapowiedziany został powrót złoczyńcy w Batman #13 Snydera, na łamach Legends of the Dark Knight #7 rozpoczyna się kolejna 3-częściowa opowieść z klaunem w roli głównej. Pierwsza część Letters to Batman wyraźnie jednak sygnalizuje, że w odróżnieniu od ostatniej historii tym razem twórcy skoncentrują na Batmanie i jego rozterkach. Liczę, że będzie to opowieść, w której Joker posłuży tylko, jako pewien impuls, który uzmysłowi Batmanowi, że naprawdę robi coś dobrego, o czym pewnie w swoich listach poinformowali go mieszkańcy Gotham. Jednym słowem zapowiada się kolejna dobra historia.
Ocena: 4,5 nietoperka

---