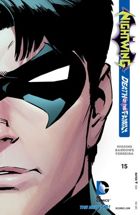 NIGHTWING #15
Tytuł historii: Cleaning House
Miesiąc wydania (okładka): Luty 2013 (USA)
W sprzedaży od: 19.12.2012 (USA)
Scenariusz: Kyle Higgins
Rysunki: Eddy Barrows
Okładka: Greg Capullo, FCO Plascencia
Kolor: Rod Reis
Tusz: Eber Ferreira
Liternictwo: Carlos M. Mangual
Ilość stron: 32
Twoja ocena:

GD Star Rating
loading...
Tie-in "Death of the Family"!
Joker atakuje cyrk Haleya, a Nightwing nie może powstrzymać szalejącego mordercy!

Jimmy Clark, klaun z cyrku Haleya, w ciemnej alejce nagle zaczyna histerycznie się śmiać i po chwili umiera w rękach Jokera.
Patrolując miasto Nightwing zastanawia się nad ostatnimi wydarzeniami. Jest pewny, że Joker zna sekretne tożsamości bohaterów. Przez moment towarzyszy mu też Batgirl, która radzi mu by skupił się na ważnych sprawach. Kiedy Dick przymierza się już by sprawdzić Blackgate, skąd Joker uwolnił Raye, otrzymuje telefon od Sonii, która przekazuje mu złe wieści na temat Jimmy'ego.
Po dodarciu do Amusement Mile Dick od razu zastaje wystawione ciało klauna Jimmy'ego z kartką: "Nikt nie lubi podróbek". Grayson radzi obecnym na miejscu pracownikom cyrku by wyjechali z miasta.
Raya budzi się w opuszczonym hangarze samolotowym ,a tuż obok niej jest Joker, który nie chce by zadawała zbyt wiele pytań, bo to popsuje cały dowcip.
Po bezowocnej obserwacji Blackgate i braku jakichkolwiek śladów nad ranem Nightwing udaje się do miejskiej kostnicy, by tam przyjrzeć się ciału Jimmy'ego. Cała sytuacja jednak się komplikuje ze względu na telefon od Sonii, która postanowiła wbrew naleganiom Dicka zostać w mieście. Po zdobyciu próbki krwi Nightwing udaje się na spotkania z Sonią. Kobieta próbuje go pocieszyć, jednak pocałunek z córką mordercy rodziców nie jest dobrym pomysłem. Niezręczna sytuacja zostaje przerwana w chwili, kiedy na telefon Dicka przychodzą wyniki badań krwi Jimmy'ego.
Wykryta w nich obecność paliwa rakietowego pozwala Nightwingowi namierzyć opuszczony hangar Kline Industries, gdzie zostaje zaatakowany przez Jokerową Raye. Na miejscu jest także sam Joker, który nie ma zamiaru przeszkadzać w walce.
Działania toksyny Jokera sprawiają, że Raya zaczyna obsesyjnie się śmiać, wtedy wiedząc, że każda sekunda się liczy Dick wstrzykuje jej antidotum, na wcześniejsze toksyny szaleńca. Chociaż Raya odzyskuje przytomności i przeprasza za wszystko to po chwili je serce przestaje bić. Mimo podjęcia reanimacji Nightwingowi nie udaje się jej uratować. Po rozpięciu jej kostiumu, który miał na sobie logo bohatera, Dick znajduje tam zaproszenie od Jokera do Amusement Mile.
Po dość średnich crossoverach z Death of the Family wreszcie otrzymujemy historię na naprawdę dobrym poziomie. Kyle Higgins nie powtarza schematów, które mieliśmy w innych seriach. Joker pogrywa sobie z Nightwingiem, ale cały czas pozostaje w cieniu. Tym samym bez nadmiernego pokazywania jego przerażającej twarzy twórcom udaje się stworzyć przerażającą atmosferę. Bo nigdy nie pewności, gdzie pojawi się i co zrobi klaun. Wejście Jokera jak i jego wyjście jest naprawdę imponujące. Robi to ze stylem, ale przy spotkaniu z Nightwingiem nie zanudza go swoim monologiem, tylko szybko przechodzi do sedna i schodzi ze sceny, gdyż to dopiero pierwszy akt jego sztuki.
Grayson w ostatnim czasie próbował poukładać swoje życie, a tym czasem Joker obraca praktycznie wszystko w pył. Wcale nie potrzebna jest mu bezpośrednia rywalizacja z Nightwingiem. Życie Graysona i tak jest skomplikowane, co najlepiej pokazują relacje łączące go z Sonią Zucco. Zilustrowany przez Barrowsa pocałunek wzbogacony o sceny śmierci rodziców Dicka doskonale obrazuje uczucie łączące tą dwójką.
Nightwing #15 od początku do końca trzyma czytelników w napięciu. Twórcom udaje się tu zmieścić dosłownie wszystko. Jest akcja, romans i tragedia, a wszystkie te elementy są doskonale wyważone.
Ocena: 4,5 nietoperka

---