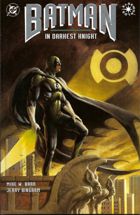 BATMAN: IN DARKEST KNIGHT
Data wydania: 1994
Scenariusz: Mike W. Barr
Rysunki: Jerry Bingham
Tusz: Jerry Bingham
Okładka: Jerry Bingham
Liternictwo: Pat Brosseau
Kolory: Digital Chameleon
Wydane jako: oneshot (Elseworlds)
Ilość stron: 46
Twoja ocena:

GD Star Rating
loading...
Komiksy spod szyldu Elseworlds bawią się kanonem na różne sposoby. Jedne ukazują alternatywny los kanonicznych postaci, np. Superman został przybocznym Stalina, a Barry Allen przyjął na siebie strzały oddane do Kennedy'ego, przez co został sparaliżowany. Inne zaś stawiają jedną postać z uniwersum na miejscu innej. I takim komiksem jest właśnie In Darkest Knight. Czy Bruce Wayne w służbie Korpusu sprawdził się lepiej niż Hal Jordan? Może tak, może nie, ale na pewno nie najlepiej sprawdzili się twórcy tej historii.
Komiks rozpoczyna się sceną z Roku Pierwszego. Wykrwawiający się Bruce siedzi w gabinecie ojca i szuka symbolu dla swojej krucjaty. Jednakże, lecący w kierunku jego okna nietoperz miał dużo lepszy wzrok niż w kanonie i zauważył szybę. Zamiast tego, znad popiersia Thomasa Wayne'a unosi się zielono-fioletowa zjawa z pierścieniem, mówiąca: "Bruce Wayne, you have been chosen!" Zjawa ulecza Wayne'a, a ten wybiega z domu. Na terenie posiadłości rozbiła się kapsuła, w której nasz ulubiony komiksowy dorobkiewicz odnajduje ową postać. Abin-Sur przekazuje Bruce'owi pierścień, wtajemnicza go w cały bajzel z Korpusem i umiera. Po krótkiej zabawie z pierścieniem, Wayne doskonale wie jakim symbolem zostanie. Gościem w zielonej piżamie i głupiej masce. Drżyjcie łotry, bo jam jest noc! Zielony Gacek rusza na eskapadę i na dzień dobry udaremnia napad gangu Red Hooda w Ace Chemicals. Następnie wezwany przez strażników z Oa, wyrusza na planetę Korugar w celu pojmania renegata Korpusu, Sinestro. Luftmysza wywiązuje się z zadania, a Sinestro, skazany na banicję , przysięga zemstę na Wayne'ie.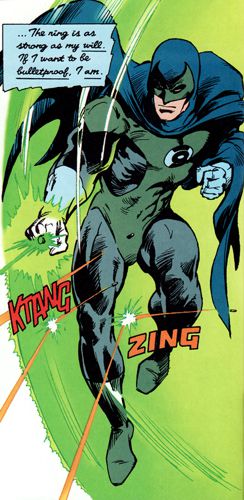 Boże, co za kretynizm… In Darkest Knight, o czym można zorientować się po tytule to typowy elseworlds "kopiuj-wklej". Cały koncept Batmana jako Latarnika jest poprowadzony na "odwal się", jak wypracowanie napisane na długiej przerwie. Skoro Wayne nie ujrzał nietoperza, tylko został Green Lanternem, to skąd ta peleryna i maska? Zresztą, pomysł kostiumu Gacka w tym komiksie jest po prostu smutny… Do tego w finale pojawiają się też Superman, Wonder Woman i Flash. Również jako Latarnicy. O ile Batman dostaje tu jakiś projekt przebrania, to reszta towarzycha wygląda klasycznie, tylko dostaje zielone maski i loga Korpusu na kostiumach. Przecież to wygląda idiotycznie! Sinestro z kolei bez żadnego uzasadnienia zaczyna wyglądać jak Joker. Dostaje fioletowy frak, bo… nie wiem, bo tak. Fabuła to po prostu chamskie przełożenie motywu "greenlanternowego" na "batmanowy" bez żadnego ładu czy jakiegokolwiek sensu. Po prostu zmarnowany potencjał, bo wszyscy wiemy, że Zielony Pierścień we władaniu Bruce'a Wayne'a to materiał na porządną historię, a nie na takie popłuczyny. Co gorsza, tego komiksu nie stworzyli jacyś chałturnicy, a Barr i Bingham, twórcy genialnego Son of the Demon. Jak do tego doszło?
Ok, dostało się Mike'owi Barrowi za scenariusz, teraz kolej na Jerry'ego Binghama za rysunki. W rzeczonym Son of the Demon, oprawa graficzna to był majstersztyk. Bingham ma świetny styl, podpadający pod manierę Neala Adamsa czy Irva Novicka, a przecież to nie byle kto. Tutaj po prostu odwalił fuszerkę. Rysunki są brzydkie, niedopracowane, po prostu zrobione od niechcenia.
Czy są w tym komiksie jakieś plusy? Nie wiem, dla mnie nie bardzo, może poza sceną pojmania Red Hooda. Taki smaczek.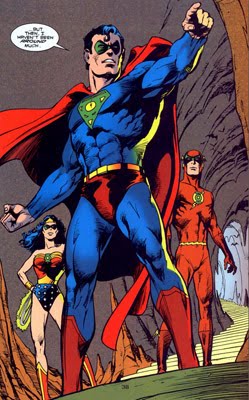 Generalnie, to zwyczajna ciekawostka dla fanów Elseworlds. Można za dwie dyszki wziąć, jeżeli będzie okazja. Prócz tego, napis "Batman" na okładce jest wytłaczany, więc jeśli ktoś jest kolekcjonerem, to też polecam. Możliwe za to, że fani Zielonego Korpusu podejdą do tej pozycji bardziej entuzjastycznie. Reszta może sobie odpuścić.
Plusy:
scena z Red Hoodem
wytłaczana okładka
Minusy:
zmarnowany potencjał i bezsensowne przełożenie historii
wszystko wykonane na "odwal się"…
…a twórcy do kiepskich nie należą
durne projekty postaci
Ocena: 2 nietoperki

---
Poprzednia Strona