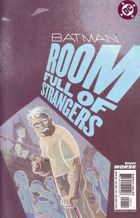 BATMAN: ROOM FULL OF STRANGERS
Data wydania: 2004
Scenariusz: Scott Morse
Rysunki: Scott Morse
Tusz: Scott Morse
Okładka: Scott Morse
Liternictwo: Janice Chiang
Wydane jako: one shot
Ilość stron: 68
Twoja ocena:

GD Star Rating
loading...
Graficzna uczta z niezłym scenariuszem.
Room full of strangers to komiks, który z pewnością się wyróżnia. Nie pod względem scenariusza, jakości wydania czy może objętości. Wyróżnia się pod względem oprawy graficznej. A zajął się nią (także napisał scenariusz) niejaki Scott Morse. Batfani mogą znać jego styl z historii pt. "The delusions of Alfred Pennyworth", która wchodziła w skład trzeciej części antologii Batman Black & White. W zasadzie, przy tym komiksie nie ma tego luksusu możliwości, aby porównać go z czymś innym. Styl, jakim operuje Morse, jest jedyny w swoim rodzaju – jakkolwiek tanio by to nie brzmiało. Artysta bawi się światłem i kolorem. Niektóre kadry wyglądają żywcem wyjęte z jakiejś kreskówki, inne czasem wręcz karykaturalnie. Wszystko prezentuje się bardzo interesująco.
Fabuła przedstawia się następująco. Komisarz Gordon, będący już na emeryturze postanawia udać się na zasłużone wakacje. Wybiera sobie spokojny pensjonat nad oceanem daleko od Gotham City. Liczy na błogi odpoczynek i na wyleczenie ran po niedawnym postrzale w plecy. Jak to zwykle bywa, tego spokoju oczywiście nie znajduje. Nie mija kilka godzin od przyjazdu komisarza, a już pojawia się trup. Na zebranych wczasowiczów pada strach. Kto zabił? Komu można zaufać? Sytuacji nie poprawia gwałtowna burza, która rozpętała się nad ośrodkiem i skutecznie odcięła kurort od świata zewnętrznego. Gordon w obcym środowisku, nie w pełni formy musi sprostać niebezpieczeństwu. Cień Gotham City i Batmana rozciąga się daleko…
Mrocznego Rycerza w tym komiksie jest mało. Główną rolę odgrywa Gordon razem z wczasowiczami. Scott Morse świetnie ukazuje podstarzałego gliniarza, który usiłuje prowadzić "normalne" życie na emeryturze. Próbuje grać w szachy, rozmawiać z gośćmi itp. Nie udaje mu się to, a dość smutny finał sprawia, że po lekturze zostaje jakaś refleksja.
Minusem komiksu może być objętość. Przydałoby się trochę więcej. Moje wydanie nie ma nawet twardego grzbietu i jest na dobrą sprawę zeszytem, aczkolwiek Morse'owi i tak udało się sporo zawrzeć na tych 68 stronach. Inną stroną ujemną tego oneshotu, jest niedostępność w naszych krajowych sklepach komiksowych, a i na Allegro też nie ma co liczyć. Ostatni egzemplarz, który się pojawił na tym serwisie aukcyjnym jest z roku 2011. Jednak warto zapolować na ten komiks gdzieś za granicą. Szczególnie dla stylu jakim operuje Scott Morse. Warto znać.

Plusy:
raczej niespotykana oprawa graficzna (jak na komiks z Batmanem)
klaustrofobiczna atmosfera
Minusy:
trzeba sprowadzać od cioci z Ameryki
mogłoby być dłuższe
---
Poprzednia Strona