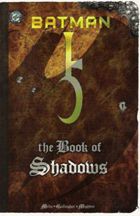 BATMAN: THE BOOK OF SHADOWS
Data wydania: 1999
Scenariusz: Pat Mills, Debbie Gallagher
Rysunki: Duke Mighten
Tusz: Duke Mighten
Kolory: Digital Chameleon
Okładka: Duke Mighten
Liternictwo: Bill Oakley
Wydane jako: one-shot
Ilość stron: 68
Twoja ocena:

GD Star Rating
loading...
Jedną z zalet postaci Batmana jest to, że można z powodzeniem przedstawiać go w różnych konwencjach artystycznych. Z historii o Mrocznym Rycerzu można stworzyć, na przykład, detektywistyczny kryminał, opowieść science fiction, thriller lub dobry, sensacyjny "akcyjniak". Ze względu na swoją aparycję, Batman zdaje się także idealnie pasować do koncepcji horroru, co twórcy umiejętnie wykorzystują. Do tego typu historii zalicza się na przykład "Sanctum" Mike Mignoli, lub choćby trylogia "Vampire Book" Douga Moencha i Kelleya Jonesa. W 1999 roku DC Comics wydało one-shot pt. "The Book of Shadows", który, moim zdaniem, jest dobrym przykładem na to, jak zrobić interesujący komiks z Batmanem właśnie w konwencji horroru.
Autorzy scenariusza to Pat Mills oraz Debbie Gallagher, a stroną graficzną zajął się Duke Mighten. Na próżno szukać w ich biografiach jakiegoś większego związku z Batmanem. Wszyscy mieli do czynienia głównie z komiksem brytyjskim (m.in. "Judge Dredd" oraz "Slaine") i wydawnictwem 2000 A.D. "Book of Shadows" to ich pierwszy i, do tej pory, jedyny projekt dotyczący postaci Mrocznego Rycerza.
Historia nie jest specjalnie zawiła, w gruncie rzeczy jest dość prosta, ale za to nadrabia atmosferą. Batman, po odnalezieniu zmasakrowanych zwłok szesnastoletniego chłopca – Jeda Fostera – wpada na trop tajemniczej minisekty, której członkowie okazują się być czcicielami piekielnego demona, Archona. Nietoperz szybko odkrywa, że sami wyznawcy nie są do końca ludźmi, a morderstwo Jeda Fostera nie było pierwszym na koncie sekty i bynajmniej nie zapowiada się, by było ostatnim. Mroczny Rycerz rozpoczyna swoje polowanie, które dodatkowo wzmocnione jest obietnicą złożoną samemu sobie, by sprawców zabójstwa chłopca doprowadzić przed oblicze sprawiedliwości.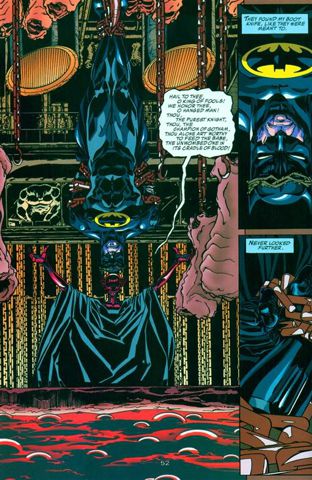 Bardzo podobał mi się klimat horroru, który bije od tej historii. Nad Gotham, w czasie trwania akcji ciągnie się burza z piorunami, główni przeciwnicy Nietoperza wyglądają jakby wyskoczyli prosto ze szkicownika H.R. Gigera, a finałowa lokacja idealnie wpisuje się gatunek. Mimo, że twórcy nie mieli wcześniej do czynienia z Batmanem, to, w mojej opinii, charakter postaci został oddany należycie. Idealnie pasuje tutaj określenie "Mroczny Rycerz", gdyż Batman jest tutaj właśnie rycerzem broniącym niewinnych, mścicielem, który chroni ludzi, za którymi nikt inny się nie wstawi. Jest ostatnią granicą dzielącą nasz świat od piekielnego wymiaru. Złożona obietnica pomszczenia śmierci młodego Jeda nie pozwala mu odpuścić w poszukiwaniach winowajców. Nie pozwala mu odejść, ani odpocząć od misji, dopóki ta nie zostanie zakończona. Nie przeraża go też fakt, że jego przeciwnikami nie są ludzie, lecz piekielne stwory, których być może nie da się pokonać. Podobało mi się odejście od złotej zasady "nie zabijać", którą kieruje się bohater. Stwierdza on bowiem, że skoro sprawcy nie należą do tego świata, to nie ma dla nich w nim miejsca. Tym sposobem, Batman nie ma większego problemu z definitywnym rozprawieniem się z wyznawcami Archona – bezlitośnie ich tropi i doprowadza do smutnego (dla nich) końca.
Ze stylem Duke Mightena miałem początkowo problem. Na niektórych kadrach narzekałem na przejrzystość rysunków, ale po zakończeniu lektury śmiem twierdzić, że jego prace idealnie nadają się do tej opowieści. Grafika w jego wykonaniu jak najbardziej pasuje do klimatu historii.
Ciekawym elementem są krawędzie przedniej i tylnej okładki stylizowane na tytułową księgę. Poza tym nie ma tutaj nic, co można by nazwać jakimikolwiek dodatkami. Niestety, komiksu brak w krajowych sklepach internetowych. Pozostaje ratować się zagranicznymi serwisami, co polecam zrobić – szczególnie tym, którzy szukają przygód Nietoperza w konwencji horroru.

Plusy:
Minusy:
niedostępność
brak dodatków
---
Poprzednia Strona