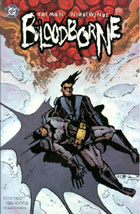 BATMAN/NIGHTWING: BLOODBORNE
Data wydania: 2002
Scenariusz: Kelley Puckett
Rysunki: Toby Cypress
Tusz: Toby Cypress
Kolory: Melissa Edwards
Okładka: Ted McKeever
Liternictwo: Willie Schubert
Wydane jako: oneshot
Ilość stron: 48
Twoja ocena:

GD Star Rating
loading...
"Batman/Nightwing: Bloodborne" to oneshot wydany w roku 2002. Scenariuszem zajął się Kelley Puckett, który pracował np. nad serią " The Batman Adventures" – swego rodzaju przeniesieniem na komiksowe kadry serialu "Batman The Animated Series" oraz współtworzył serię "Batgirl" z roku 2000. Oprawę graficzną wykonał Toby Cypress – autor, który był mi przed tym albumem kompletnie nieznany. DC Wikia podaje, że póki co Cypress nie ma bogatej kariery w DC Comics, a tym bardziej na batmanowym poletku. Oprócz "Bloodborne" narysował bowiem tylko jeden zeszyt serii "Batman: Gotham Knights".
Fabuła prezentuje się następująco. Batmana tym razem wywiało daleko poza Gotham, bo aż gdzieś do Mongolii. Co tam robi? Tego na razie nie wiemy. Widzimy go tylko rannego trzymającego fiolkę z dziwnym płynem, otoczonego przez zgraję najemników. Ostatkiem sił udaje mu się ich pokonać, ale potem upada nieprzytomny. Ostatnią rzeczą jaką robi przed utratą świadomości, jest zniszczenie urządzenia namierzającego, pozwalającego śledzić jego pozycję przez Alfreda siedzącego bezpiecznie w Jaskini. Najwyraźniej Nietoperz z jakiegoś powodu chce, aby nikt nie miał możliwości przybycia mu z pomocą. Alfred wzywa Nightwinga, a ten oczywiście rusza swojemu mentorowi na ratunek.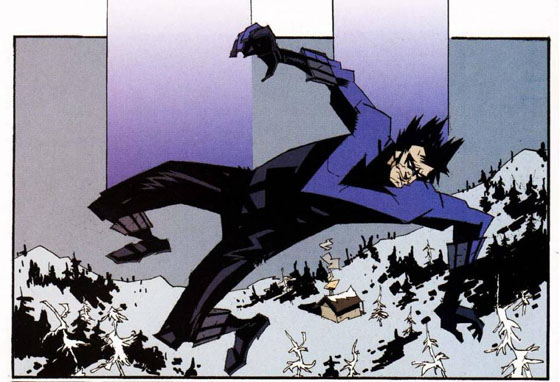 Album w zasadzie powinien honorować Nightwinga na pierwszym miejscu w tytule, gdyż to on jest głównym bohaterem tej historii. Cały czas obserwujemy jego determinację i zawziętość w dążeniu do celu. Nie poddaje się nawet wtedy, gdy wszystko wokół mówi mu, że powinien to zrobić. Narracja pierwszego Robina to na pewno plus komiksu, ale chyba niestety jedyny. Po obiecującym początku i ciekawym motywie z chwilową amnezją Dicka, akcja systematycznie pikuje. Urwane lub kiepsko wyjaśnione wątki tajemniczego wirusa, niedorzeczne (nawet jak na komiks) starcia z najemnikami skutecznie mogą obniżyć jakość lektury. Nie pomaga również zachwiana osobowość pani wirusolog, którą Nightwing spotyka na miejscu. Jednocześnie, przy komiksie skutecznie trzymała mnie wspomniana wcześniej narracja oraz ciekawość co dokładnie się stanie z Batmanem. Mimo wszystko nie miałem większego problemu ze skończeniem albumu, co jest w sumie dziwne zważając na sumę znajdujących się tutaj wad.
Rysunki Cypressa mocno przypominają styl Teda McKeevera (chyba nieprzypadkowo autor słynnych w naszym kraju "Machin" wykonał okładkę do tego albumu) co niestety nie wywołuje w większości przypadków pozytywnych odczuć. Kiedy przeglądałem zagraniczne recenzje "Bloodborne" większość z nich zwracała uwagę właśnie na okropną szatę graficzną. Padło nawet porównanie rysunków Cypressa do osoby psychicznie upośledzonej. Jest to oczywiście grubo przesadzone przyrównanie, aczkolwiek potrafię zrozumieć dlaczego tego typu oprawa graficzna może się nie podobać.
Bloodborne nie jest niczym specjalnym, może odrzucać szatą graficzną i fabularnym lataniem po łebkach. Komiks zdecydowanie wyłącznie dla zatwardziałych fanów Nightwinga. Chyba rzadko można zobaczyć jak Dick ratuje tyłek Bruce'owi.

Plusy:
Minusy:
---
Poprzednia Strona