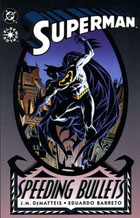 SUPERMAN: SPEEDING BULLETS
Data wydania: 1993
Scenariusz: J. M. DeMatteis
Rysunki: Eduardo Barreto
Tusz: Eduardo Barreto
Kolory: Les Dorscheid
Okładka: Eduardo Barreto
Liternictwo: Willie Schubert
Wydane jako: oneshot
Ilość stron: 48
Twoja ocena:

GD Star Rating
loading...
Co by się stało, gdyby kapsuła ratunkowa Ostatniego Syna Kryptonu wylądowała nie w Kansas, a w Gotham City? Co by było, gdyby statek kosmiczny wraz dzieckiem nie trafił do Jonathana i Marthy, lecz pod opiekę Thomasa i Marthy Wayne'ów? I wreszcie, jak potoczyłyby się losy przyszłego Supermana, gdyby zamiast spokojnego dzieciństwa na wsi, spotkałaby go okropna tragedia podczas pewnego wieczoru, gdy wracał wspólnie z rodzicami z kina? Na szczęście, w zamierzchłych latach dziewięćdziesiątych, komiksy wychodzące spod szyldu Elseworlds umożliwiały poznanie odpowiedzi na tego typu pytania.
"Superman: Speeding Bullets" to oneshot wydany w 1993 roku i jest niczym innym, jak wcieleniem Supermana w skórę Batmana. Scenariuszem zajął się J. M. DeMatteis znany między innymi z rewelacyjnego "Batman: Absolution", czy choćby z serii "Justice League 3000" ukazującej się w ramach New 52. Oprawę graficzną wykonał Eduardo Barreto, który na swoim koncie ma znaną w Polsce historię "Video – przemoc" z początku wydawnictwa TM-Semic, a także m. in. kontynuację "Gotham by Gaslight", o którym pisaliśmy tutaj.
Mimo, iż na okładce widnieje logo Supermana, można śmiało powiedzieć, że jest to komiks o Mrocznym Rycerzu. Końcówka historii pokazuje dlaczego zdecydowano się jednak na takie zatytułowanie komiksu, ale lwią część opowieści stanowi mroczne Gotham City z jeszcze mroczniejszym Bruce'em. DeMatteis zaserwował nam fabułę o innym, a jednocześnie o tym samym zagubionym chłopcu, który stracił rodziców w ciemnej alejce. Posiadanie mocy Supermana wcale nie pomaga mu uporać się z tragedią z dzieciństwa. Jest brutalny i nie przebiera w środkach. Łamie kości i nie waha się użyć swoich promieni na ludziach. Lois Lane, widząc pierwszy raz Batmana w akcji, boi się go nie mniej jak zbirów, którzy przed chwilą jej zagrażali. Siłą rzeczy, sposób walki jest inny. Nie ma gadżetów i tak, jak klasyczny Nietoperz atakował ukryty gdzieś tam w cieniu, tak teraz Kal-El Batman wyskakuje na oprychów spod betonowego chodnika. Bo może.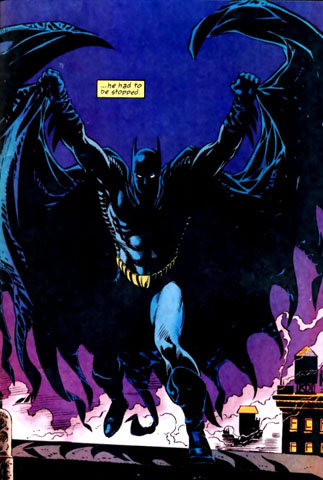 Kostium również różni się nieco od klasycznego podejścia. Ma kilka nowych elementów, odmienne buty oraz pas, ale najwidoczniejszą różnicą jest brak otworu na usta – twarz jest kompletnie zakryta. Moim zdaniem wygląda to nieźle. Dodaje szczyptę tajemniczości i zagadkowości. Eduardo Barreto świetnie się spisał projektując przebranie umieszczając przy tym takie smaczki jak przerobienie elipsy wokół symbolu nietoperza na kształt tej Człowieka ze Stali, czy też stworzenie okładki nawiązującej do pierwszego zeszytu serii "Superman".
Dzisiaj, po tylu latach od pierwszej publikacji, komiks czyta się całkiem dobrze. Miałbym zastrzeżenia co do głównego przeciwnika, który nie był specjalnie przekonujący ani w żaden sposób interesujący. Autorzy zdecydowali się na połączenie cech Lexa Luthora oraz Jokera. Zespolenie to ma miejsce zarówno charakterologicznie jak i wizualnie. Wyszedł z tego osobliwy potworek, który do końca nie wie, czy ma zostać prezesem dużej firmy/naukowcem lub też kompletnym szaleńcem chcącym podporządkować sobie miasto, śmiejąc się przy tym do rozpuku. Komiks miał zdecydowanie potencjał na dużo większą ilość stron. Część wątków zasługiwała na rozwinięcie. Można było dopieścić głównego przeciwnika, czy wzbogacić scenariusz jakąś relacją z Alfredem, który mimo ciekawego początku, jest niemal kompletnie pominięty. Tak jak w przypadku Marka Millara i jego "Superman: Red Son", mogło być znakomicie, a tak jest tylko "nieźle".

Plusy:
projekt kostiumu
ciekawy pomysł na Elseworldsa…
Minusy:
…ale lekko niedopracowany i zbyt krótki
JokeroLuthor/LuthoroJoker.
---
Poprzednia Strona