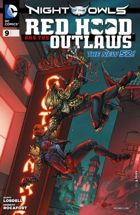 RED HOOD AND THE OUTLAWS #9
Tytuł historii: Who are You? — Hoo Hoo?
Miesiąc wydania (okładka): Lipiec 2012 (USA)
W sprzedaży od: 16.05.2012 (USA)
Scenariusz: Scott Lobdell
Rysunki: Kenneth Rocafort
Okładka: Kenneth Rocafort, Blond
Kolor:Liternictwo: Dezi Sienty
Ilość stron: 32
Twoja ocena:

GD Star Rating
loading...
Court of Owls atakuje i ostatnią osobą na świecie, po której spodziewalibyście się odpowiedzi na wezwanie Batmana do walki jest Red Hood! Dodatkowo w numerze pojawia się Mr. Freeze.
Wezwanie od Alfreda doprowadziło Jasona i jego towarzyszy wprost na Mr. Freeze'a, który, żeby ochronić się przed Court of Owls zamienił całe Chinatown w lodową twierdzę. Chociaż Todd nienawidzi Batmana, to jednak nie chce dopuścić by grupa szaleńców przejęła kontrolę nad Gotham City.
Podczas gdy Red Hood postanawia odnaleźć Freeze'a, Roy i Kori mają uratować jak najwięcej ludzi uwięzionych pod lodem.
Jason w porę dostaje się do kryjówki złoczyńcy, gdzie Talon już był bliski zabicia Freeze'a, który postanowił więcej nie współpracować z Court of Owls. Ingerencją Jasona lodowy łotr nie jest jednak zachwycony, dlatego zamraża mu rękę i radzi by ten zajął się ochroną kogoś, kto tego potrzebuje. Red Hooda to jednak nie zniechęca i od razu rusza w pościg za Talonem.
Kiedy zabójca Court of Owls po zadanym ciosie sztyletem, prawie skruszył maskę Jasona, ten zaczyna być w nie lada kłopocie, ale wtedy ręce Talona przebite zostają strzałą wystrzeloną przez Roya. Na miejscu zjawia się też Kori, który postanawia zająć się Mr. Freeze'em.
Podążając za Talonem, Jason po jego ruchach, domyśla się, że ten był kiedyś akrobatą, który poszukując lepszego życia dołączył do cyrku Haleya. Podczas rozmowy z Red Hoodem, który wie co to znaczy powrócić do świata żywych, Talon zdradza mu, że może i oddał swoje ciało Court of Owls, ale zachował duszę.
Podczas rozmowy ze Starfire, Mr. Freeze zdradza jej, że wpływowi biznesmeni zwrócili się do niego z planem wykończenia Batmana. I chociaż ich cel był wspólny, to w pewien sposób Court of Owls wykorzystało go, a ten takich rzeczy nie zapomina. Niespodziewanie Freeze zostaje unieszkodliwiony po tym jak Roy Harper trafia go elektryzującą strzałą.
Talon zdradza Jasonowi, że nazywa się Xiao Loong i że od dziecka był trenowany przez Court of Owls. Nawet zdecydowali o jego śmierci. Teraz chce by wreszcie wszystko się zakończyło. Jason przykłada do jego głowy broń.
Na dachu komisariatu, gdzie Batgirl zamieniała Owl-sygnał na Bat-sygnał i przyniosła pokonana przez siebie Talonkę, zjawia się Red Hood, który podrzuca Mr. Freeze'a. Barbara tym razem pozwala mu odejść, ale jeśli znowu zobaczy go w Gotham to umieści go w celi tuż obok lodowatego złoczyńcy.
Wmieszanie w Night of the Owls Jasona Todda naprawdę dostarcza sporo dobrej akcji, co w połączenie z pełnymi ruchu panelami Rocaforta stwarza świetną mieszankę.
Akcja czy to ze strony Red Hooda, czy jego przyjaciół stoi, więc na wysokim poziomie. Zawodzi jednak Talon, którego zestawienie z Red Hoodem daje co prawdę okazję do pokazania innej strony zbójcy Court of Owls. Opowieść o biednym Xiao, który szukał tylko lepszego życia mnie nie przekonuje. Jako Talon też się nie sprawdza, bo zamiast walczyć i najpierw zrealizować swój priorytet, to praktycznie cały czas tylko ucieka.
Interesująco wypada natomiast końcówka numeru, w której pojawia się Batgirl. Tym razem bohaterka zachowuje się zupełnie inaczej niż w Batgirl #9. Nie rozpacza, że na niebie wyświetlany jest Owl-sygnał, bo po prostu z powrotem włącza Bat-sygnał. Lobdell naprawia, więc kilka niedorzeczności, które wcześniej zaserwowała czytelnikom Gail.
Ocena: 3,5 nietoperka

---