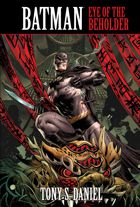 BATMAN: EYE OF THE BEHOLDER
Data wydania: 2011
Scenariusz: Tony S. Daniel
Rysunki: Tony S. Daniel, Steve Scott, Andy Smith
Tusz: Tony S. Daniel, Sandu Florea, Ryan Winn, Walden Wong
Okładka: Tony S. Daniel
Liternictwo: Jared K. Fletcher
Kolory: Ian Hannin
Wydane jako: Batman 704-707, 710-712 (2011 r.)
Ilość stron: 168
Twoja ocena:

GD Star Rating
loading...
Na wstępie należy nadmienić, że wydarzenia przedstawione w tym albumie dzieją się w okresie, w którym to Dick Grayson (sam Bruce pojawia się tylko na moment) dzierży kaptur Nietoperza. Nie każdemu to pasuje. Niektórzy uważają, że tylko Bruce może być Mrocznym Rycerzem. Do niedawna ja sam również wyznawałem tę zasadę i nie tykałem rzeczy, w których Batmanem nie jest Bruce. Jednakże "Black Mirror" Scotta Snydera skutecznie pokazał mi, że przy dobrym scenariuszu, kwestia czyja twarz znajduje się pod maską schodzi na dalszy plan i nie przeszkadza w cieszeniu się lekturą. Dlatego też, kiedy nadarzyła się okazja, nie miałem większych obiekcji by sięgnąć po album autorstwa Tony'ego Daniela i spółki.
Daniel to jednak nie Snyder i nie radzi sobie aż tak dobrze w tworzeniu fabuł i budowaniu atmosfery co pokazały dwa pierwsze (w szczególności drugi) tomy "Detective Comics" po restarcie uniwersum. Tony to przede wszystkim rysownik i to wychodzi mu zdecydowanie lepiej niż pisanie. Aczkolwiek jako scenarzysta ma on pewien potencjał. Cząstkę tych możliwości pokazał właśnie chociażby w opisywanym przeze mnie albumie.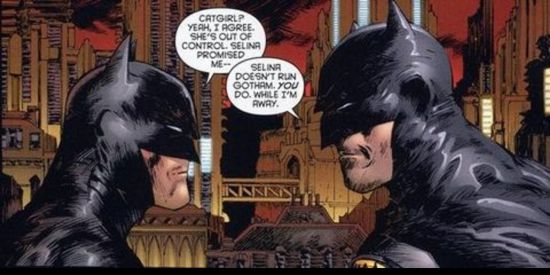 "Eye of the Beholder" to zbiór siedmiu zeszytów przedstawiających dwie intrygi. Są one w jakimś sposób ze sobą powiązane, lecz nie jest to bezpośrednia kontynuacja i na dobrą sprawę traktują zupełnie o czym innym, mają inny klimat itd. Pierwsza historia skupia się na tajemniczej masce Beholdera pochodzącej z czasów starożytnych Chin. Maska ta daje właścicielowi ogromną, mityczną moc i siłę. Lata temu ów przedmiot został sprowadzony i ukryty gdzieś w Gotham City. Teraz, dawny wróg Batmana, uznany wcześniej za zmarłego, odkrywa, że maska ukryta jest w mieście i postanawia ją odnaleźć.
Historia ta może jakoś specjalnie nie porywa i nie trzyma w napięciu, ale na pewno nie jest to totalne dno i dość przyjemnie mi się to czytało. Nieźle przedstawiona chińska legenda, która została przeniesiona w brudne klimaty Gotham. Jest dużo akcji, kilka znajomych twarzy, a także jedna zupełnie nowa postać wymyślona przez Daniela specjalnie na potrzeby tej fabuły – azjatycka piękność o imieniu Peacock. Dostajemy też udział Damiana Wayne'a jako Robina oraz Catwoman wraz z jej młodą podopieczną – Catgirl. To, co może przeszkadzać w odbiorze scenariusza, to niepotrzebny powrót zza grobu kolejnego złoczyńcy. Ten motyw był już eksploatowany wielokrotnie i niestety może budzić u niektórych Czytelników lekkie zażenowanie.
Druga część albumu nosi nazwę "Pieces". Tym razem Daniel nie bawi się w mistyczne czary mary, a sięga po kultowego nietoperzowego złoczyńcę – Two-face'a. Cała historia jest wariacją na temat Gildy Dent – żony Harveya – i kwestii co się z nią stało po "The Long Halloween". Były prokurator okręgowy ukazany jest przez Daniela dość dobrze. Brutalnie przesłuchuje swoje ofiary, widać jego obłęd oraz determinację w osiągnięciu zamierzonego celu. Cała historia ogólnie jest niezła, ale mogła być lepsza. Niedokończony wątek Gildy i kilka scenariuszowych luk psują odbiór całości. Niemniej jednak, fani występów Two-face'a powinni przynajmniej rzucić okiem na ten epizodzik trudnych spraw z życia rodzinki Dentów. Do tej historii Daniel napisał scenariusz i stworzył okładki, jednak rysunkami wewnętrznymi zajęli się Steve Scott i Andy Smith.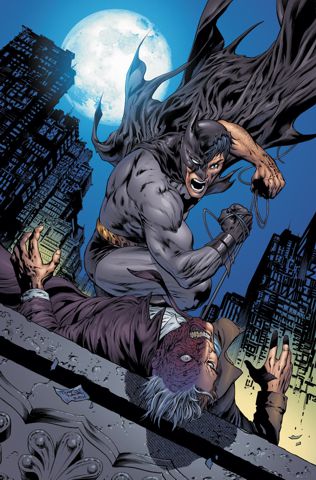 Zeszyty zebrane do tego wydania zbiorczego były niemal ostatnimi (po nich był już tylko jeden) przed restartem uniwersum. W "New 52" Tony Daniel kontynuował swoją przygodę z pisaniem i rysowaniem serii o Batmanie, tym razem przy tytule "Detective Comics", a wydawnictwo Egmont umożliwiło poznanie tych komiksów polskim Czytelnikom. "Eye of the Beholder" powinno spodobać się ludziom, którzy polubili pierwszy tom pt. "Oblicza Śmierci", a w szczególności początkową historię z Dollmakerem. Powiedziałbym, że oba albumy, pod względem poziomu, leżą na tej samej komiksowej półce i jeśli komuś mało twórczości Tony'ego Daniela może śmiało sięgnąć. Komiks jest łatwo dostępny w krajowych sklepach internetowych.

Plusy:
okładka pod obwolutą (w wersji HC)
całkiem niezły Two-Face
grafika (w szczególności dopracowane splash page'e)
Minusy:
drobne nielogiczności
niedokończone wątki
brak dodatków
---
Poprzednia Strona