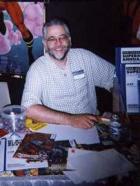 Na początek chciałbym wymienić kilka przykładów komiksów Jego współautorstwa z udziałem Batmana, które pojawiły się na polskim rynku wydane przez TM-Semic. W ramach miesięcznika "Batman": "Elektryczne Miasto", "Kulka dla Bullocka" (historia przedstawiona również w serialu animowanym "Batman"), w "Top Komiksie" nr 1/99: "Batman versus Predator III: Więzy Krwi". Miał również wkład w "Upadek Rycerza". I to nie byle jaki, bo oprócz scenariuszy (pomiędzy innymi twórcami) to On jest twórcą postaci Bane'a.
Dixon pracował przy różnych seriach związanych, że się tak wyrażę – ze światem Batmana: "Detective Comics", "Robin", "Nightwing", "Birds of Prey".
Oprócz tego możemy się również spotkać z Jego scenariuszami w innych cyklach komiksowych; przykładowo: "Crux", "Doom", "Green Arrow", "Team 7", "The Punisher War Journal", "The Punisher War Zone", "Way of the Rat". Napisał scenariusze m.in. do: "Aliens: Pig", "Batgirl: Year One", "Superman/Tarzan: Sons of the Jungle". Pracował, więc dla różnych wydawnictw: DC, Marvel, Image, Dark Horse, CrossGen.
Do Jego scenariuszy rysowali np.: John Romita Jr, Tom Lyle, Jim Balent, Scott McDaniel, Graham Nolan, Gary Kwapisz.
---
Poprzednia Strona