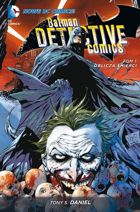 BATMAN: DETECTIVE COMICS: OBLICZA ŚMIERCI
Data wydania: 08.04.2013
Scenariusz: Tony S. Daniel
Rysunki: Tony S. Daniel
Tłumaczenie: Tomasz Sidorkiewicz
Druk: kolor, kredowy
Oprawa: twarda
Format: 170 x 260 mm
Ilość stron: 176
Wydawca: Egmont Polska
Wydawca oryginalny: DC Comics
Cena: 75,00 zł
Twoja ocena:

GD Star Rating
loading...
Pierwszy tom zbiorczy z zapoczątkowanej w 2011 roku serii Batman – Detective Comics, jednej z 52 nowych serii wydawnictwa DC Comics. Joker zdołał opuścić Azyl Arkham – zakład dla obłąkanych przestępców – a Batman nie może pojąć znaczenia przerażającego śladu, który pozostawił po sobie szaleniec. W Gotham City dochodzi do dziwnych i potwornych zbrodni, a wszystkie te wydarzenia zdają się wskazywać na tego samego sprawcę – nowego łotra używającego pseudonimu Dollmaker. Wkrótce Batman zostanie wystawiony na próbę. By ocalić niewinnych ludzi, będzie musiał oddać sadystycznemu zwyrodnialcowi samego siebie. Czy w tych okolicznościach uda mu się odkryć tożsamość Dollmakera, jego tajemniczych zleceniodawców i ich powiązania z zaginionym Jokerem?
Batman Detective Comics: Oblicza śmierci – recenzja
Po lekturze Batman: Detective Comics, czytelnik będzie miał nie mały mętlik w głowie. Tony S. Daniel, scenarzysta i rysownik w jednej osobie, zafundował nam piramidę wątków i zdarzeń, których echo będzie jeszcze długo wybrzmiewać w świecie Batmana. Choć sama historia, to układanka z pomysłów ogranych, które już nieraz pojawiały się na łamach komiksów i filmów związanych z Mrocznym Rycerzem.
Joker po raz kolejny ucieka z Arkham, okazuje się, że ma to odwrócić uwagę Mrocznego Rycerza od nowego złoczyńcy w Gotham. Książę zbrodni zostaje oczywiście złapany i odstawiony do Azylu Arkham, gdzie czeka już na niego wspólnik, by zrobić mu paskudną operację. Na tym występ klauna w pierwszym tomie się kończy. Przez kolejne trzy rozdziały poznajemy makabryczny plan Dollmakera. Jest to postać wyjęta rodem z krwawego horroru. Fani serii Piła i teksańskich masakr będą zachwyceni wyglądem nowego przeciwnika jak i jego pomagierami. Pierwsze cztery rozdziały tego tomu to krwawa, mroczna historia. Rysunki Daniela jak i kolory nakładane przez Rayana Winna, świetnie oddają mrok całej historii. Ale, żeby nie było na zbyt mrocznie, twórcy pokazali także prywatne życie Bruce'a Wayne'a, co wcale nie jest takie częste na kartach komiksów. Kolejną kobietą w życiu milionera jest dziennikarka Charlotte Rivers. Kobieta pewna siebie i odważna, która nie boi się zadrzeć z samym Oswaldem Chesterfieldem Cobblepotem.
Kolejne trzy historie dotyczą Pingwina i jego szemranych interesów z nowymi złoczyńcami Gotham. Wszystko dzieje się podczas otwarcia Iceberg Casino. W tej historii pojawia się podła siostra bliźniaczka panny Rivers, oraz kolejna nowa postać Snake – Skin. Daniel mnoży wątki i pomysły, które zostaną rozwinięte w kolejnych odsłonach Detective Comics. Mimo, że główne wątki opowieści układają się w logiczną całość, to mam przeczucie, że cała opowieść runie pod ich ciężarem. Nowi złoczyńcy, tacy jak Gas man (Mr. Toxic), Hypnotic czy Mr. Combustible, wyglądają jak wariacje na temat klasycznych złoczyńców, na ich tle wyróżnia się jedynie Dollmaker i wspomniany Snake–Skin, który jest Clayface'em nowego DC.
W albumie znajdziemy również krótką nowelę zilustrowaną przez naszego rodaka Szymona Kudryńskiego i Tomeu Morey'a. Historia młodego szulera o nazwisku Strange jest bardzo ciekawa i najlepiej wypada na tle całego tomu.
Niestety Tony S. Daniel, to rysownik niedokładny i ma kłopoty z uchwyceniem perspektywy. Swoje braki warsztatowe maskuje opowieścią i wartką akcją. W istocie dzieje się dużo, momentami zbyt dużo. W porównaniu z dokonaniami Scotta Snydera historie opowiedziane w Detective Comics wypadają słabo i chaotycznie.
Ocena: 3 nietoperki

---
Wydanie powstało na podstawie komiksu: BATMAN: DETECTIVE COMICS VOL. 1: FACES OF DEATH.
---