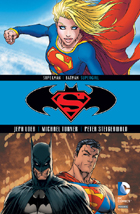 SUPERMAN/BATMAN, TOM 2: SUPERGIRL
Data wydania: 16 marca 2016
Scenariusz: Jeph Loeb
Rysunki: Michael Turner, Peter Steigerwald
Tłumaczenie: Jakub Syty
Druk: kolor, kredowy
Oprawa: miękka ze skrzydełkami
Format: 167 x 255 mm
Ilość stron: 144
Wydawca: Egmont Polska
Wydawca oryginalny: DC Comics
Cena: 39,99 zł
Twoja ocena:

GD Star Rating
loading...
Batman odkrywa tajemniczy statek kosmiczny na dnie zatoki Gotham. W jego wnętrzu znajduje się dziewczyna, która – jak się wkrótce okazuje – ma wiele wspólnych cech z bohaterem Metropolis – Supermanem. Kiedy Batman z Supermanem dyskutują nad powodami pojawienia się nieznajomej oraz ewentualnymi skutkami tego wydarzenia, do akcji wkracza Wonder Woman, próbując ukryć przybyszkę przed zewnętrznym światem. Sytuacja robi się naprawdę niebezpieczna, gdy bohaterką zaczyna się interesować sam Darkseid, jeden z największych złoczyńców uniwersum DC! Kolejny tom serii Superman/Batman to dzieło czterokrotnego zdobywcy nagrody Eisnera Jepha Loeba (Batman: Hush, Batman: Długie Halloween) oraz Michaela Turnera (Kryzys Tożsamości). Oto historia, w której na nowo poznajemy genezę Supergirl!

Od kilkunastu lat studio Warner Bros., a właściwie wydział odpowiedzialny za animacje wypuszczane bezpośrednio na rynek video, zasypuje nas filmami z bohaterami świata DC, głównie z udziałem Batmana i Supermana. O ile większość tych produkcji delikatnie rzecz ujmując nie stoi na zbyt wysokim poziomie, tak jedną z nielicznych, o których mógłbym wypowiedzieć się pozytywnie i do której z chęcią wracam jest "Superman/Batman: Apokalipsa" z 2010 roku. Niech nikogo nie zmyli tytuł – to nie jest film o duecie najpopularniejszych superbohaterów komiksowych jakich znał świat (przynajmniej nie tylko), ani tym bardziej o jakiejś "apokalipsie". Przez jakiś czas zastanawiałem się skąd ten niepasujący tytuł, aż w końcu mnie oświecono, że film ten jest adaptacją kilku odcinków komiksowej serii "Superman/Batman", która opowiada nową genezę Supergirl. Od tamtej pory chciałem zapoznać się z oryginałem, a dzięki wydawnictwu Egmont w końcu miałem okazję. Historia ta w końcu trafiła na polskie półki w 2016 roku.
Jak już wspomniałem, to nie jest opowieść wyłącznie o Mrocznym Rycerzu i Człowieku ze stali. To tak zwany origin kuzynki Supermana, Kary Zor-El, która pewnej nocy pojawia się w porcie Gotham i powoduje niemały galimatias. Dzięki niej Clark po raz pierwszy w swoim życiu nie czuje się sam jako przedstawiciel swojej rasy, a Człowiek-Nietoperz w swoim stylu podchodzi bardzo nieufnie do drugiego przybysza z planety Krypton. W całą sprawę wplątane zostają również inne ikony Ligi Sprawiedliwości, w tym Wonder Woman, a naprzeciw im staje złowieszczy Darkseid, który pragnie zwerbować Karę do swojej gwardii. Dla wszystkich, którzy wcześniej widzieli wersję animowaną fabuła będzie dobrze znana – choć nie całkowicie, kilka jej elementów zmieniono (np. finał), lub pominięto (np. odniesienia do pierwszych sześciu zeszytów przedstawiających wydarzenia mini-serii "Wrogowie publiczni").
Dosyć słowa wstępu. W końcu nie miał być to wykład o historii animacji, a recenzja tego konkretnego komiksu. Tom 2: Supergirl (ten podtytuł pasuje o wiele bardziej, bo to głównie jej historia) w moich oczach nie ustępuje tomowi pierwszemu i bardzo dobrze sprawdza się jako jego sequel (kontynuowanie wątku odłamków meteoru ze szczątków Kryptona). Scenariuszowo nawet wygrywa, bo o wiele mniej tutaj typowego-komiksowego łubudubu, a o wiele więcej intryg i zaskakujących zwrotów akcji. Muszę uprzedzić, że całość może być mało przystępna dla przeciętnego Kowalskiego, sporo tu tła, bohaterów pobocznych i wątków kontynuujących historie DC, które przetoczyły się przez dziesiątki komiksowych serii od 1985 roku (restartu z "Crisis on Infinite Earths"), ale dla zagorzałych fanów DC nie powinno to stanowić większego problemu. Wręcz przeciwnie, bogactwo świata działa na korzyść tej epickiej przygody.
O stronie wizualnej mogę wypowiadać się z samych superlatywach. Na ogół nie przepadam za rysunkami, które zbytnio skręcają w kierunku japońskich mang, ale w tym wypadku prace Michaela Turnera i Petera Steigerwalda bronią się swoim charakterem i świetną kolorystyką. Mroczny Rycerz prezentuje się doskonale, a od postaci kobiecych nie mogłem oderwać wzroku (myślę że nie muszę tłumaczyć dlaczego). Wydanie Egmont stoi na ich standardowym, wysokim poziomie. Lubię czytać komiksy w miękkiej oprawie i miło zaskoczył mnie zbiór alternatywnych okładek jako materiał dodatkowy, którego brakowało na końcu tomu pierwszego. To chyba one przechyliły szalę przy ocenie końcowej – daję cztery i pół nietoperka, czyli o pół więcej od Wrogów publicznych, którego wydaniu to i owo brakowało.
Ocena: 4,5 nietoperka

---
Wydanie powstało na podstawie komiksu: SUPERMAN/BATMAN VOL. 2: SUPERGIRL.
---