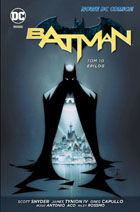 BATMAN, TOM 10: EPILOG
Data wydania: 2 sierpnia 2017
Scenariusz: Scott Snyder, Ray Fawkes, James Tynion IV
Rysunki: Roge Antonio, Gragg Capullo, ACO, Riley Rossmo
Tłumaczenie: Tomasz Sidorkiewicz
Druk: kolor, kredowy
Oprawa: twarda
Format: 170 x 260 mm
Ilość stron: 120
Wydawca: Egmont Polska
Wydawca oryginalny: DC Comics
Cena: 59,99 zł
Twoja ocena:

GD Star Rating
loading...
Mieszkańcy Gotham wiedzą, że to Batman tak naprawdę rządzi ich miastem i jest gotów zrobić wszystko, by je chronić. Losy metropolii i Mrocznego Rycerza są nierozerwalnie splecione. I chociaż Bruce Wayne przeżył kilka miesięcy jako zwyczajny obywatel, teraz wreszcie powraca do roli bohatera. Czy Gotham mogłoby przetrwać bez swego obrońcy? I – co ważniejsze – czym byłby Bruce Wayne bez swego superbohaterskiego wcielenia?
Scenarzysta Scott Snyder przedstawia ostatnią opowieść o Mrocznym Rycerzu, w której bohater walczy ze znajomymi przeciwnikami i nowymi wrogami. W niezwykłych opowieściach zawartych w tym tomie Batman trafi do alternatywnej, dystopijnej przyszłości, a także zagłębi się we własną przeszłość. Ponownie będzie poszukiwał odpowiedzi na pytania: kim jest, kim się stał i jak musi wyglądać jego dziedzictwo… Legendarni scenarzyści Scott Snyder (Batman, All-Star Batman, Amerykański Wampir) i James Tynion IV (Wieczny Batman) oraz rysownicy – Greg Capullo (Spawn), Roge Antonio (Wieczni Batman i Robin), ACO (Midnighter) i Riley Rossmo (Constantine: The Hellblazer) przedstawiają ostatni tom serii.
---
Wydanie powstało na podstawie komiksu: BATMAN VOL. 10: EPILOGUE.
---