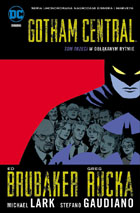 GOTHAM CENTRAL, TOM 3: W OBŁĄKANYM RYTMIE
Data wydania: 15 lutego 2017
Scenariusz: Ed Brubaker, Greg Rucka
Rysunki: Michael Lark
Tłumaczenie: Jacek Drewnowski
Druk: kolor, kredowy
Oprawa: miękka ze skrzydełkami
Format: 167 x 255 mm
Ilość stron: 228
Wydawca: Egmont Polska
Wydawca oryginalny: DC Comics
Cena: 69,99 zł
Twoja ocena:

GD Star Rating
loading...
Trzeci tom serii kryminalnej rozgrywającej się w Gotham, mieście Batmana. Cykl ten został uhonorowany najważniejszymi wyróżnieniami amerykańskiego rynku komiksowego – Nagrodami Eisnera i Harveya.
W Gotham City szaleje brutalna wojna gangów. Po pewnym tragicznym błędzie policjanci dochodzą do wniosku, że nie mogą już ufać Batmanowi, a zatem komisarz podejmuje brzemienną w skutki decyzję – Mroczny Rycerz jest teraz poszukiwany, a słynny batsygnał zostaje zdjęty z dachu centrali. Nastąpiło to w najgorszym momencie, bo Wydział Poważnych Przestępstw musi się zmierzyć z superłotrem, z którym nigdy dotąd nie miał do czynienia, a na szali leży życie dobrego policjanta.
Gdy wojna gangów daje się we znaki detektywom Renee Montoyi i Crispusowi Allenowi, funkcjonariusze podejmują działania, które na zawsze odmienią ich losy. Aby Gotham było bezpieczne bez pomocy Batmana, Allen i Montoya muszą sobie narobić potężnych wrogów… i zmierzyć się ze swoimi mrocznymi sekretami.
Trzeci tom cyklu GOTHAM CENTRAL stworzyli wybitni scenarzyści Greg Rucka (Batman, Zamieć, Za Królową i Ojczyznę, liczne powieści kryminalne) i Ed Brubaker (The Fall, Catwoman, The Authority) oraz rysownicy Michael Lark (Sandman, Superman, Batman) i Stefano Gaudiano (Żywe Trupy, Daredevil).
---
Wydanie powstało na podstawie komiksu: GOTHAM CENTRAL BOOK 3: ON THE FREAK BEAT.
---