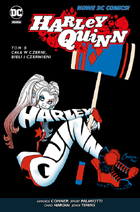 HARLEY QUINN, TOM 6: CAŁA W CZERNI, BIELI I CZERWIENI
Data wydania: 22 listopada 2017
Scenariusz: Jimmy Palmiotti, Amanda Conner
Rysunki: Chad Hardin, John Timms, Marco Failla
Tłumaczenie: Paulina Braiter
Druk: kolor, kredowy
Oprawa: twarda
Format: 170 x 260 mm
Ilość stron: 144
Wydawca: Egmont Polska
Wydawca oryginalny: DC Comics
Cena: 75,00 zł
Twoja ocena:

GD Star Rating
loading...
Szósty i ostatni tom przygód Harley Quinn w kolekcji Nowe DC Comics. Była narzeczona Jokera wie wszystko o szalonej miłości, ale teraz sprawy uczuciowe to dla niej przeszłość. Obecnie jest niezależną, przebojową kobietą, która używa przemocy w służbie dobra. Niestety, pani doktor stanie się ofiarą zalotów pewnego osobnika, a wtedy przekona się, czym jest prawdziwe szaleństwo miłości. Adorator nazywa się Red Tool i chce dowieść swej miłości do Harley… mordując ludzi, porywając naszą bohaterkę i próbując zmusić do ślubu! W dodatku dziewczyna popada w konflikt z burmistrzem Nowego Jorku, ponieważ ten uznał, że "umowa" pozwalająca Gangowi Harleyek działać w mieście bez przeszkód nie jest bezterminowa… a jej ważność właśnie dobiega końca.
Czy Harley skończy za kratami, czy spotka ją coś gorszego? A może Red Tool okaże się jednak do czegoś przydatny? Autorzy Amanda Conner (Strażnicy – Początek: Jedwabna Zjawa) i Jimmy Palmiotti (Jonah Hex) oraz rysownicy John Timms (Deadpool) i Chad Hardin (Demon Knights) przedstawiają nową postać, od której Harley zrobi się czerwono przed oczami!
---
Wydanie powstało na podstawie komiksu: HARLEY QUINN VOL. 6: BLACK, WHITE AND RED ALL OVER.
---