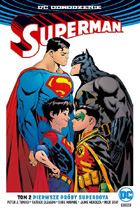 SUPERMAN, TOM 2: PIERWSZE PRÓBY SUPERBOYA
Data wydania:
24 stycznia 2018
Scenariusz:
Peter J. Tomasi, Patrick Gleason
Rysunki:
Patrick Gleason, Doug Mahnke, Jaime Mendoza i inni
Tłumaczenie:
Jakub Syty
Druk:
kolor, kredowy
Oprawa:
miękka ze skrzydełkami
Format:
167 x 255
Ilość stron:
156
Wydawca:
Egmont Polska
Wydawca oryginalny:
DC Comics
Cena:
39,99 zł
Twoja ocena:
GD Star Rating
loading...
Drugi tom przygód Supermana z nowej serii DC Odrodzenie. Superman wraz z rodziną na dobre zadomowił się już na nowej Ziemi, a sam odzyskał status najpotężniejszego herosa na planecie. Teraz, wraz z żoną Lois Lane, pomaga synowi Jonathanowi w okiełznaniu jego objawiających się niezwykłych zdolności. Dla tej niesamowitej rodziny nie ma czegoś takiego jak nuda. I tak nie jest najgorzej, zważywszy na towarzystwo, w jakim się obracają. Weźmy na przykład niespodziewaną podróż na Wyspę Dinozaurów lub przypadkowe spotkanie z Frankensteinem i jego nikczemną narzeczoną. Dla Człowieka ze Stali i jego syna to zwykła codzienność. Dużo większym wyzwaniem jest zainteresowanie ze strony Mrocznego Rycerza dziwnymi przybyszami z innego świata oraz wybuchowa rywalizacja Superboya z Robinem, synem Batmana.
---
Wydanie powstało na podstawie komiksu:
SUPERMAN VOL. 2: TRIALS OF THE SUPER SONS
.
---