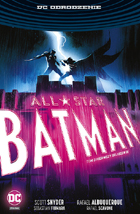 ALL-STAR BATMAN, TOM 3: PIERWSZY SOJUSZNIK
Data wydania: 27 marca 2019
Scenariusz: Scott Snyder, Rafael Albuquerque, Rafael Scavone
Rysunki: Rafael Albuquerque, Sebastian Fiumara
Tłumaczenie: Maciej Nowak-Kreyer
Druk: kolor, kredowy
Oprawa: miękka ze skrzydełkami
Format: 167 x 255
Ilość stron: 156
Wydawca: Egmont Polska
Wydawca oryginalny: DC Comics
Cena: 39,99 zł
Twoja ocena:
GD Star Rating
loading...
Trzeci tom serii All-Star Batman to pasjonujący thriller, który trafia w samo serce mitologii Nietoperza! Batman jako strażnik Gotham stawił już czoła całej armii najgroźniejszych złoczyńców świata. Często podążał niebezpiecznymi ścieżkami, ponosząc przy tym ogromne straty. Jednak dzięki pomocy Alfreda Pennywortha, swojej prawej ręki, za każdym razem wychodził z opresji cało. Teraz Mroczny Rycerz musi zdemaskować istniejący od pokoleń, tajemniczy spisek i zmierzyć się z nowym wrogiem. Nieprzyjaciel nosi imię Nemezis, a zarówno Batman, jak i Alfred są na jego czarnej liście. Sprawę komplikuje cała galeria dawnych oponentów, poczynając od Pingwina, na Czarnej Masce kończąc, a wyprawa po prawdę zawiedzie Batmana do Miami i jeszcze dalej… głęboko w przeszłość. Mroczny Rycerz stanie przed najtrudniejszym wyborem – będzie musiał poświęcić swój płaszcz Nietoperza albo człowieka, którego najbardziej kocha… Autorami tomu są scenarzysta Scott Snyder oraz rysownik Rafael Albuquerque, laureaci Nagrody Eisnera za serię Amerykański Wampir.
---
Wydanie powstało na podstawie komiksu: ALL-STAR BATMAN VOL. 3: THE FIRST ALLY.
---