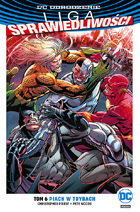 LIGA SPRAWIEDLIWOŚCI, TOM 6: PIACH W TRYBACH
Data wydania: 17 lipca 2019
Scenariusz: Christopher Priest
Rysunki: Pete Woods, Philippe Briones, Ian Churchill, Marco Santucci
Tłumaczenie: Maciej Nowak-Kreyer
Druk: kolor, kredowy
Oprawa: miękka ze skrzydełkami
Format: 167 x 255
Ilość stron: 216
Wydawca: Egmont Polska
Wydawca oryginalny: DC Comics
Cena: 69,99 zł
Twoja ocena:
GD Star Rating
loading...
Ostatni tom przygód Ligi Sprawiedliwości z linii wydawniczej DC Odrodzenie. Kiedy wskutek nieuwagi Batmana ginie niewinny człowiek, to członkom Ligi Sprawiedliwości zostanie wymierzona sprawiedliwość. Trafiają przed sąd, aby odpowiedzieć za swoje czyny w trakcie procesu stawiającego pod znakiem zapytania sens istnienia Ligi. Co więcej, w tym chyba najgorszym możliwym momencie pojawia się nowe zagrożenie. Ktoś stara się obronić Ligę, mordując jej przeciwników. Ktoś, kto najwyraźniej wie o niej wszystko, począwszy od najgłębiej skrywanych sekretów, a skończywszy na tym, jak unieszkodliwić Green Lanterna. Czy członkowie Ligi przezwyciężą trudności, nawet jeśli tracą wiarę w swojego przywódcę? Największy fan Ligi okazuje się także jej największym zagrożeniem. Wykorzystuje przeciwko jej członkom ich sekrety. Chcąc osiągnąć swój obłąkańczy cel, uszkadza Obserwatorium i dosłownie sprowadza Ligę na Ziemię! Nominowany do Nagrody Eisnera scenarzysta Christopher Priest (Deathstroke) oraz rysownik Pete Woods (Superman) prowadzą największych bohaterów w stronę kryzysu, z jakim jeszcze nigdy nie mieli do czynienia! Album zawiera tom 6 (Justice League vol. 6: The People Vs. The Justice League) i tom 7 (Justice Lost) wydania oryginalnego.

---
Wydanie powstało na podstawie komiksów: JUSTICE LEAGUE VOL. 6: THE PEOPLE VS. THE JUSTICE LEAGUE i JUSTICE LEAGUE VOL. 7: JUSTICE LOST.
---