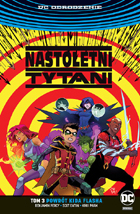 NASTOLETNI TYTANI, TOM 3: POWRÓT KID FLASHA
Data wydania: 15 maja 2019
Scenariusz: Benjamin Percy, Marv Wolfman, Shea Fontana
Rysunki: Scot Eaton, Khoi Pham
Tłumaczenie: Marek Starosta
Druk: kolor, kredowy
Oprawa: miękka ze skrzydełkami
Format: 167 x 255
Ilość stron: 144
Wydawca: Egmont Polska
Wydawca oryginalny: DC Comics
Cena: 39,99 zł
Twoja ocena:
GD Star Rating
loading...
Trzeci i ostatni tom przygód Nastoletnich Tytanów w ramach linii wydawniczej DC Odrodzenie. Po odejściu Kida Flasa drużyna kierowana przez Robina przeżywa kryzys. Choć Damian Wayne jest synem Batmana i błyskotliwym taktykiem, brakuje mu umiejętności interpersonalnych. Tytani stają na rozdrożu – Robin chce przyjąć nowych członków, a reszta grupy wolałaby dać drugą szansę Kidowi Flashowi po tym, jak rzekomo ich zdradził i stanął po stronie Deathstroke'a. Tymczasem Beast Boy wpada w poważne kłopoty. Czy odejdzie z drużyny, żeby przystać do nowoczesnego kolektywu technologicznych buntowników? Scenariusz albumu napisał Benjamin Percy (Green Arrow), a zilustrowali Go Khoi Pham (X-Force) i Scot Eaton (Aquaman). W zbiorze znalazła się również przygoda Starfire, stworzona przez współautora tej postaci Marva Wolfmana (New Teen Titans).

---
Wydanie powstało na podstawie komiksu: TEEN TITANS VOL. 3: THE RETURN OF KID FLASH.
---