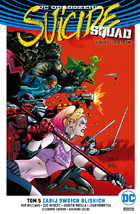 SUICIDE SQUAD – ODDZIAŁ SAMOBÓJCÓW, TOM 5: ZABIJ SWOICH BLISKICH
Data wydania: 27 marca 2019
Scenariusz: Rob Williams
Rysunki: Gus Vazquez, Agustin Padilla, Juan Ferreyra, Giuseppe Cafaro
Tłumaczenie: Tomasz Sidorkiewicz
Druk: kolor, kredowy
Oprawa: miękka ze skrzydełkami
Format: 167 x 255
Ilość stron: 120
Wydawca: Egmont Polska
Wydawca oryginalny: DC Comics
Cena: 39,99 zł
Twoja ocena:
GD Star Rating
loading...
Piąty tom przygód najniebezpieczniejszej drużyny świata w ramach linii wydawniczej DC Odrodzenie. Harley Quinn, Deadshot, Kapitan Bumerang, Killer Croc to banda złoczyńców, ale złoczyńców przydatnych. Wykonują najniebezpieczniejsze, tajne misje dla dobra kraju, choć z reguły wbrew swojej woli (zdalnie sterowane bomby umieszczone w ich głowach wyjątkowo dobrze motywują do działania). Teraz mają przed sobą szczególne wyzwanie. Tajemnicza organizacja znana jako Naród zwerbowała szefową Oddziału Specjalnego X, Amandę Waller. Na całym świecie powstają dziesiątki nowych Oddziałów Samobójców. Ich celem jest wyeliminowanie zagrożenia, jakie stwarzają metaludzie – zarówno bohaterowie, jak i złoczyńcy. Czy członkowie Suicide Squad skorzystają z szansy na pokonanie superbohaterów? A może ci niepoprawni przestępcy okażą się zbawicielami ludzkości? Album tworzy zespół uznanych artystów w składzie: Rob Williams (Trinity, Kingsmen: The Red Diamond), Gus Vazquez (Flash), Agustin Padilla (Smallville Season 11) i Giuseppe Cafaro (Liga Sprawiedliwości Kontra Suicide Squad).
---
Wydanie powstało na podstawie komiksu: SUICIDE SQUAD VOL. 5: KILL YOUR DARLINGS.
---