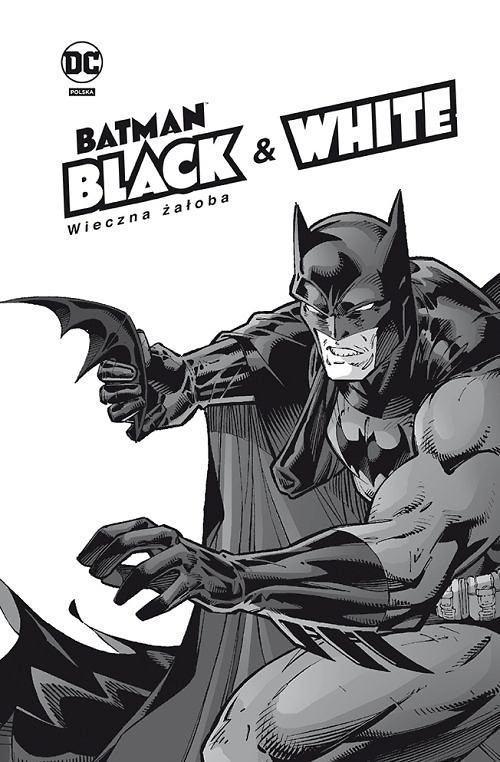 BATMAN NOIR: BLACK & WHITE – WIECZNA ŻAŁOBA
Data wydania: 23 września 2020
Scenariusz: Różni autorzy
Rysunki: Różni autorzy
Tłumaczenie: Marek Starosta
Druk: kolor, kredowy
Oprawa: twarda
Format: 225 x 344
Ilość stron: 448
Wydawca: Egmont Polska
Wydawca oryginalny: DC Comics
Cena: 249,99 zł
Twoja ocena:

GD Star Rating
loading...
Pierwsza część dwutomowego wydania antologii "Batman Black & White". Album składa się z kilkudziesięciu 8-stronicowych opowieści o Batmanie autorstwa największych amerykańskich i nie tylko twórców komiksowych. Wśród scenarzystów znaleźli się tacy mistrzowie pióra jak Archie Goodwin, Joe Kubert, Neil Gaiman, Katsuhiro Otomo, Warren Ellis, Brian Azzarello. Rysunki wykonali natomiast tak znakomici rysownicy jak Jim Lee, Richard Corben, Kevin Nowlan, Eduardo Risso. O niezwykłości tego zbioru stanowi fakt, że wszystkie historie opowiedziane są w czerni i bieli. Antologia, która otrzymała najważniejsze amerykańskie wyróżnienie komiksowe – Nagrodę Eisnera – ukazuje się w ekskluzywnej serii "Batman Noir" – w powiększonym formacie.
Recenzja zbiorcza Batman Noir: Batman: Black & White
We wrześniu na Polskim rynku komiksowym pojawiły się dwa wyjątkowe albumy z serii "Batman Noir: Batman Black & White". Albumy wydane w powiększonym formacie (22.5×34.4cm) na kredowym grubym papierze, o objętości kolejno 464 i 448 stron! Czy warto kupić wspomniane albumy? Odpowiedź wcale nie jest taka oczywista.
Dla każdego fana Batmana z zasobnym portfelem są to pozycje obowiązkowe, a nie są to wydania tanie. Cena okładkowa jednego tomu to 250 złotych bez grosza. Nawet po 25% zniżki proponowanej w sklepie wydawcy, kupno dwóch albumów za jednym razem to spory wydatek. Trzeba jednak zaznaczyć, że Polski czytelnik dostaje łącznie 104 ośmiostronicowe zamknięte opowieści ze świata Batmana, plus dodatki w postaci szkiców, wariantów okładek, komentarzy twórców i wydawcy serii Marka Chiarello. Dostajemy do rąk wydanie grubsze o 100 stron niż zbiorczy amerykański Omnibus.
Zaraz, zaraz, Panie recenzent, ale czy Egmont nie wydał już dwóch albumów serii "Black & White" w 2002 roku?! Owszem, ale było to standardowe wydanie zeszytowe zawierające łącznie tylko kilkanaście ze 104 historii i to w czasach gdy takie albumiki kosztowały 9,90 złotych. Po za tym w jednym z albumów znajdziemy trzy historie prezentowane już jako dodatki do innych wydań komiksów z Człowiekiem Nietoperzem. Ze względu na zamysł serii, pozycja ta zainteresuje szczególnie tych czytelników, którzy lubią czarno – białe rysunki i komiksy jako sztukę. Fabularnie historie również trzymają poziom. Częściej spotkamy w nich Mrocznego Rycerza jako detektywa niż brutalnego mściciela. Jest też parę parodystycznych opowieści jak i z otwartym zakończeniem. Słowem każdy czytelnik znajdzie coś dla siebie. Na stronach znajdziemy całą plejadę scenarzystów i rysowników z Ameryki, Europy, a nawet Japonii, którzy wzięli udział w tym projekcie.
Daje temu wydaniu całościowo najwyższą notę, zaznaczając jednak, że są to albumy dla koneserów i największych fanów Batmana.
Ocena: 6 nietoperków

---
---
Wydanie powstało na podstawie komiksów: BATMAN: BLACK & WHITE VOL. 1 i BATMAN: GOTHAM KNIGHTS #1-26.
---