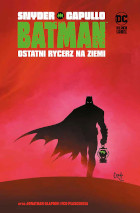 BATMAN: OSTATNI RYCERZ NA ZIEMI
Data wydania: 30 września 2020
Scenariusz: Scott Snyder
Rysunki: Greg Capullo
Tłumaczenie: Tomasz Sidorkiewicz
Druk: kolor, kredowy
Oprawa: twarda
Format: 170 x 260
Ilość stron: 184
Wydawca: Egmont Polska
Wydawca oryginalny: DC Comics
Cena: 69,99 zł
Twoja ocena:

GD Star Rating
loading...
Album "Ostatni Rycerz na Ziemi" jest ukoronowaniem wieloletniej współpracy niesamowitego duetu twórców – Scotta Snydera i Grega Capullo ("Batman – Trybunał Sów", "Batman Metal"). Bruce Wayne budzi się w Azylu Arkham w przyszłości odległej o dwadzieścia lat. Jest młody. Zdrowy. Sęk w tym, że wszystko wskazuje na to, że… nigdy nie był Batmanem. Aby odkryć tajemnicę swojej przeszłości, Mroczny Rycerz wyrusza na wyprawę przez nieznany świat – po drodze spotyka futurystyczne wersje byłych wrogów i przyjaciół. W podróż zabiera upiornego towarzysza – głowę Jokera zamkniętą w słoju. Jakimś cudem wciąż żywa głowa złoczyńcy staje się przewodnikiem Batmana po zdewastowanym świecie. Aby odkryć przyczynę tej koszmarnej przyszłości, bohater będzie musiał odnaleźć nieprawdopodobną siłę stojącą za zniszczeniem świata, który kiedyś znał. To może być ostatnia historia z Batmanem, jaką kiedykolwiek opowiedziano…
Daruję sobie opis fabuły, bo myślę, że ten powyżej, z tyłu okładki, mówi wszystko, co potrzeba. Z jednej strony "Ostatni Rycerz na Ziemi" wydaje się być odpowiedzią na "Staruszka Logana" od Marvela (klimat post-apo), z drugiej alternatywną wersją "Powrotu Mrocznego Rycerza" Franka Millera, czyli ponurą wizją przyszłości Bruce'a Wayne'a osadzoną w nowym kanionie DC Comics (tym, zapoczątkowanym w The New52 w 2011 roku). To interesująca opowieść autorstwa Scotta Snydra, w której Batman musi się odnaleźć w nowej rzeczywistości i dojść do prawdy, co sprawiło, że jego świat i przyjaciele tak bardzo się zmienili przez ostatnie 20 lat. O ile historii zdecydowanie brakuje ciekawszego śledztwa i suspensu, tak przygląda się jej bardzo dobrze za sprawą klimatycznych prac Grega Capullo, do których autor ten zdążył już polskich czytelników przyzwyczaić. Nie jestem bezkrytycznym fanem Capullo, ale cenię jego pomysły i bardzo charakterystyczny styl, którego wielu rysownikom brakuje.
"Last Knight on Earth" został podzielony na 10 rozdziałów. Pierwszych osiem czytało mi się bardzo dobrze, jednak w dziewiątym coś się zmieniło, następuje w nim kluczowy twist. Nie chcę nikomu zdradzać wielkiego rozwiązania, ale mnie ono nie tylko nie zaskoczyło, ale też z pewnych względów zirytowało. Nie przepadam za drastycznymi zmianami kanonu moich ulubionych bohaterów. Uważam, że nawet odważne pomysły, które na papierze wyglądały bardzo dobrze, ostatecznie mogą wyjść zbyt przesadzone. Takie też miałem odczucia w tym przypadku. Wprawdzie finałowe starcie Batmana z Omegą (głównym czarnym charakterem w tej fabule) w dziewiątym rozdziale było satysfakcjonujące, ale już rozdział dziesiąty, czyli kilka stron prezentujących kadry z nowym – nazwę to w ten sposób – otwarciem, z nową drużyną Człowieka-Nietoperza, w moich oczach zahacza o parodię tego, jak mogłyby się potoczyć losy Mrocznego Rycerza. Krótko mówiąc, nie jestem fanem zakończenia, na jakie wpadł Scott Snyder.
Rodzime wydanie od Egmont uważam za zdecydowanie godne polecenia. Gruba okładka z połyskującymi elementami prezentuje się znakomicie, papier i tłumaczenie stoją na standardowym dla tego wydawnictwa, wysokim poziomie, a po zakończeniu historii poza krótkimi biografiami twórców, umieszczono również fajny dodatek: osiem oryginalnych i alternatywnych okładek wydań zeszytowych z USA. Cena to jedynie 69,99 zł, co przy twardej oprawie i tej liczbie stron wydaje się bardzo atrakcyjną ofertą.
Ostatnie, co chciałem dodać, to moje największe rozczarowanie po lekturze. Od pierwszych zapowiedzi, poprzez spojrzenie na okładkę wydania zbiorczego, aż od pojawienia się tego surrealistycznego dziwactwa na pustyni, którą przemierza Batman, zastanawiałem się – jak ucięta głowa Jokera zamknięta w słoju może nadal żyć i gadać? Odpowiedzi nie otrzymałem.
Ocena: 4 nietoperki

---
Wydanie powstało na podstawie komiksu: BATMAN: LAST KNIGHT ON EARTH.
---