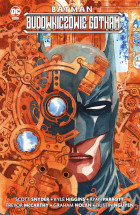 BATMAN: BUDOWNICZOWIE GOTHAM
Data wydania: 10 listopada 2021
Scenariusz: Scott Snyder, Kyle Higgins, Ryan Parrott
Rysunki: Dustin Nguyen, Graham Nolan, Trevor McCarthy
Tłumaczenie: Tomasz Sidorkiewicz
Druk: kolor, kredowy
Oprawa: twarda
Format: 170 x 260
Ilość stron: 152
Wydawca: Egmont Polska
Wydawca oryginalny: DC Comics
Cena: 59,99 zł
Na przełomie XIX i XX wieku przedstawiciele trzech wybitnych rodzin zamieszkujących Gotham postanowili stworzyć nową panoramę rozwijającego się miasta. Teraz szaleniec dysponujący sporą ilością materiałów wybuchowych i pałający pragnieniem zemsty za czyny, do których doszło ponad sto lat temu, grozi, że zniszczy całe miasto. Tajemnicza postać znana jako Architekt zaczyna od jednoczesnego wyburzenia trzech najstarszych mostów w Gotham. Bierze na celownik budynki związane z dziedzictwem najbardziej znanych mieszkańców tego miasta, w tym Bruce'a Wayne'a. Aby poznać motywy Architekta i jego związki z ponurą przeszłością Gotham, Batman musi zwrócić się o pomoc do Robina, Red Robina oraz Black Bat (postaci, która w ramach programu Batman Incorporated działa w Hongkongu). Czy uda im się wyśledzić nowego złoczyńcę, zanim ten ukończy swój wielki projekt? A może potężna eksplozja zakończy istnienie dumnej metropolii?
Scott Snyder, wielokrotnie nagradzany twórca przygód Batmana, łączy siły z tak znanymi scenarzystami jak Kyle Higgins i Ryan Parrott oraz gwiazdorskim zespołem artystów – Trevorem McCarthym, Grahamem Nolanem i Dustinem Nguyenem – aby opowiedzieć historię sięgającą najwcześniejszych dni Gotham. W albumie znajduje się również nowe wprowadzenie autorstwa Higginsa, a także szkice powstałe przy tworzeniu serii oraz pierwsza opowieść Higginsa i McCarthy'ego zatytułowana "Nightrunner", z udziałem Batmana z Paryża.
Album zawiera materiały opublikowane pierwotnie w amerykańskich zeszytach "Batman: Gates of Gotham" #1–5, "Detective Comics Annual" #12 oraz "Batman Annual" #28.
---
Wydanie powstało na podstawie komiksu BATMAN: GATES OF GOTHAM.
---