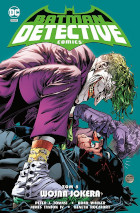 BATMAN DETECTIVE COMICS, TOM 5: WOJNA JOKERA
Data wydania: 25 sierpnia 2021
Scenariusz: James Tynion IV, Peter J. Tomasi, Mariko Tamaki
Rysunki: Eduardo Risso, Brad Walker, Kenneth Rocafort
Tłumaczenie: Tomasz Sidorkiewicz
Druk: kolor, kredowy
Oprawa: miękka ze skrzydełkami
Format: 167 x 255
Ilość stron: 236
Wydawca: Egmont Polska
Wydawca oryginalny: DC Comics
Cena: 69,99 zł
W piątym tomie najnowszej serii "Batman Detective Comics" do uznanego scenarzysty Petera J. Tomasiego ("Batman and Robin", "Super Sons") dołączają wyróżniona Nagrodą Eisnera Mariko Tamaki ("Wonder Woman", "Harley Quinn: Breaking Glass") i James Tynion IV ("Batman: Detective Comics"). Rysunki zaś są dziełem takich twórców jak Brad Walker ("Aquaman"), Kenneth Rocafort ("Red Hood and the Outlaws"), Eddy Barrows ("Detective Comics"), Eduardo Risso ("100 naboi") i nie tylko! Joker wypowiedział Batmanowi wojnę i chce wykorzystać postaci z przeszłości Mrocznego Rycerza, aby ją wygrać! Tymczasem rodzina Nietoperza dochodzi do siebie po niedawnej śmierci Alfreda Pennywortha – nikt jednak nie przeżywa odejścia wiernego kamerdynera bardziej niż Bruce Wayne. Alfred był dla niego nie tylko przyjacielem, ale też ojcem i mentorem… Jego strata mocno odbiła się na psychice Mrocznego Detektywa.
Joker wie, że nadeszła odpowiednia chwila, by zaatakować. I to z całych sił. Książę Zbrodni wywołuje falę ataków, które mają osłabić obrońcę Gotham zarówno psychicznie, jak i fizycznie. Na pierwszy ogień idzie Harvey Dent, znany również jako Two-Face, którego impulsywna natura zostaje wzmocniona przez knowania Jokera. Gotham opanowuje horda wyznawców nowej sekty, na czele której staje charyzmatyczny przywódca – Two-Face. To nie wszystko – Mroczny Rycerz musi stawić czoło ożywionemu Lincolnowi Marchowi, przemienionemu przez toksynę Jokera Luciusowi Foxowi, Killer Crocowi i wielu innym osobom, które są jedynie pionkami na diabolicznej szachownicy Jokera. A wszyscy oni mają jeden cel: raz na zawsze pogrzebać Nietoperza. Czy Mroczny Rycerz powstanie? A może pęknie ze śmiechu?
Album zawiera materiały opublikowane pierwotnie w amerykańskich zeszytach "Detective Comics" #1020–1024, #1026, "Detective Comics Annual" #3, "Batman: Pennyworth R.I.P." oraz jeden z epizodów przedstawionych w "Detective Comics" #1027. "
---
Wydanie powstało na podstawie komiksu: BATMAN: DETECTIVE COMICS VOL. 5: THE JOKER WAR.
---