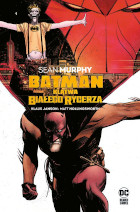 BATMAN: KLĄTWA BIAŁEGO RYCERZA
Data wydania: 14 kwietnia 2021
Scenariusz: Sean Murphy
Rysunki: Sean Murphy, Klaus Janson, Matt Holllingsworth
Tłumaczenie: Jacek Żuławnik
Druk: kolor, kredowy
Oprawa: twarda
Format: 170 x 260
Ilość stron: 272
Wydawca: Egmont Polska
Wydawca oryginalny: DC Comics
Cena: 89,99 zł
"Batman. Klątwa Białego Rycerza" to porywająca i skłaniająca do refleksji kontynuacja bestsellerowego komiksu "Batman. Biały Rycerz". Scenarzysta i rysownik Sean Murphy ponownie rozkłada mit Batmana na czynniki pierwsze. W miejskiej dżungli Gotham toczy się nieustanna wojna pomiędzy Batmanem a Jokerem – wojna, w której niełatwo rozróżnić, kto jest bohaterem, a kto złoczyńcą. Altruistyczną osobowość Jacka Napiera ponownie zdominował przebudzony Książę Zbrodni, dlatego Joker jest gotów przenieść konflikt na wyższy poziom – a jego armia właśnie zyskała nowego żołnierza. Azrael, z płonącym mieczem w dłoni, dźwigający brzemię setek lat historii, jest najmroczniejszym rycerzem, jakiego widziało Gotham. Wrogowie Batmana padają od jego ostrza jeden po drugim – krok po kroku nowy krzyżowiec urzeczywistnia w Gotham własną wizję nieba na Ziemi. Tego przeciwnika może powstrzymać jedynie Batman i jego sojusznicy, którzy nie zawsze ufają swojemu mistrzowi. Kiedy Joker i Azrael ujawnią nieznane fakty z historii rodziny Wayne'ów, Gotham City może stracić całą wiarę, jaką pokładało w Mrocznym Rycerzu. Album zawiera materiały opublikowane pierwotnie w amerykańskich zeszytach "Batman: Curse of The White Knight" #1-8 oraz zeszyt specjalny "Batman: White Knight Presents Von Freeze", do którego scenariusz napisał Murphy, a rysunki stworzył legendarny artysta Klaus Janson.
---
Wydanie powstało na podstawie komiksu: BATMAN: CURSE OF THE WHITE KNIGHT.
---