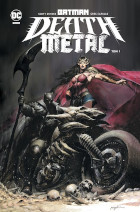 BATMAN METAL: BATMAN DEATH METAL, TOM 1
Data wydania: 29 września 2021
Scenariusz: Scott Snyder, James Tynion IV, Daniel Warren Johnson
Rysunki: Greg Capullo, Tony S. Daniel, Joëlle Jones
Tłumaczenie: Tomasz Sidorkiewicz
Druk: kolor, kredowy
Oprawa: twarda
Format: 170 x 260
Ilość stron: 200
Wydawca: Egmont Polska
Wydawca oryginalny: DC Comics
Cena: 69,99 zł
Po wydarzeniach z tomu "Liga Sprawiedliwości: Wojna Totalna. Rok łotrów" rozpoczyna się kolejny rozdział sagi Scotta Snydera. Pierwszy tom nowej serii "Batman Death Metal" pokazuje, co stało się z bohaterami po przegranej bitwie o losy multiwersum. Batman, Który się Śmieje zwyciężył. Stał się władcą koszmarnej Ziemi, przeobrażonej na jego modłę dzięki mocy Perpetui, matki multiwersum. Bohaterowie, którzy ocaleli, są zdani na jego łaskę.
Wszystko wskazuje na to, że wszelki opór został złamany. Ale czy na pewno? Prawdziwy Batman kryje się w cieniu i prowadzi wojnę podjazdową, doprowadzając do drobnych starć z siłami ciemiężyciela. Zaś Wonder Woman, która została władczynią Podziemia, marzy o ostatecznym obaleniu tyrana. Bohaterowie nadal nie stracili nadziei na wygraną… Również wygnany przez Perpetuę Lex Luthor nie powiedział jeszcze ostatniego słowa. Jaką misję powierzy on Lobo, ostatniemu Czarnianinowi?
"Batman Death Metal" to komiks autorstwa Scotta Snydera i Grega Capullo, twórców takich serii jak "Batman" i "Batman Metal". Tę niesamowitą i niezwykle kunsztowną opowieść wzbogaciliśmy dodatkowymi materiałami autorstwa takich scenarzystów jak: James Tynion IV ("Batman. Wojownicze Żółwie Ninja"), Daniel Warren Johnson ("Wonder Woman: Martwa Ziemia") czy Garth Ennis ("Kaznodzieja", "Hitman").
Album zawiera materiały opublikowane pierwotnie w amerykańskich zeszytach: "Dark Nights: Death Metal" #1–3, "Dark Nights: Death Metal – Legends Of The Dark Knights" #1, "Dark Nights: Death Metal Guidebook" #1. Komiks zawiera specjalną kartę do gry "Batman Metal". Karta będzie dostępna tylko z I wydaniem.
---