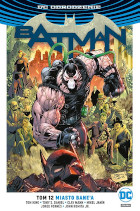 BATMAN, TOM 12: MIASTO BANE'A
Data wydania: 24 marca 2021
Scenariusz: Tom King
Rysunki: Tony S. Daniel, Clay Mann, Mikel Janin, Jorge Fornés
Tłumaczenie: Tomasz Sidorkiewicz
Druk: kolor, kredowy
Oprawa: miękka ze skrzydełkami
Format: 167 x 255
Ilość stron: 312
Wydawca: Egmont Polska
Wydawca oryginalny: DC Comics
Cena: 79,99 zł
Ostatni tom przygód Mrocznego Rycerza w ramach linii wydawniczej DC Odrodzenie. Bane złamał Batmana. Najpierw fizycznie, a ostatnio psychicznie. Rozpoczyna się ostatni akt związany z działalnością złoczyńcy – pod nieobecność Mrocznego Rycerza Bane przejmuję władzę w Gotham i zmusza miejscowych przestępców do wykonania jego rozkazów. Bruce Wayne jest bezradny. Jest jednak ktoś, kto może mu pomóc – Selina Kyle, znana również jako Catwoman – kobieta, która zostawiła go przed ołtarzem… Choć Bane odebrał Batmanowi wszystko, nadeszła pora, aby Mroczny Rycerz wrócił do Gotham i odzyskał miasto. Jeśli mu się to uda, będzie musiał pokonać jeszcze mroczniejszą postać. W innej rzeczywistości ojciec Bruce'a, Thomas Wayne, stał się Batmanem – jednym z bardziej brutalnych i okrutnych zamaskowanych bohaterów, jacy kiedykolwiek istnieli. A teraz w naszym świecie sprzymierzył się z Bane'em, aby zaprowadzić w Gotham własne rządy. W tym tomie dojdzie do ostatecznej konfrontacji trzech najbardziej przerażających postaci w całym uniwersum DC.Który Mroczny Rycerz powstanie, kiedy opadnie kurz po zakończeniu starcia?Odkryjcie odpowiedź w zdumiewającym zakończeniu świetnie przyjętej serii "Batman" autorstwa Toma Kinga z udziałem takich rysowników jak: Tony S. Daniel, Clay Mann, Mikel Janín, Jorge Fornés i John Romita Jr. Album zawiera materiały pierwotnie opublikowane w amerykańskich zeszytach "Batman" #75–85 oraz "Batman Annual" #4.
---
Wydanie powstało na podstawie komiksu: BATMAN VOL. 13: THE CITY OF BANE PART 1-2.
---