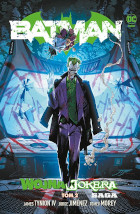 BATMAN, TOM 2: WOJNA JOKERA
Data wydania: 27 października 2021
Scenariusz: James Tynion IV
Rysunki: Jorge Jimenez, Tomeu Morey
Tłumaczenie: Tomasz Sidorkiewicz
Druk: kolor, kredowy
Oprawa: miękka ze skrzydełkami
Format: 167 x 255
Ilość stron: 360
Wydawca: Egmont Polska
Wydawca oryginalny: DC Comics
Cena: 89,99 zł
Joker rozpętał wojnę z Mrocznym Rycerzem, a Gotham zmieniło się w pole bitwy. Po tym jak Książę Zbrodni przejął cały majątek Bruce'a Wayne'a, dysponuje nieograniczonymi zasobami w wojnie z Batmanem. Stworzył nawet własną armię, żeby ostatecznie pokonać Mrocznego Rycerza, a na jego celowniku znalazł się nie tylko obrońca Gotham, ale i najbliższe mu osoby. Czy rodzina Batmana wyjdzie z tego cało i czy zdoła się zjednoczyć, by stanąć ramię w ramię w walce przeciwko Jokerowi? Jaką rolę odegra we wszystkim Harley Quinn – czy to ona uratuje Batmana i pokona Jokera?
W albumie znajdziemy również konfrontację Harley Quinn z nową dziewczyną Jokera – Punchline, powrót Nightwinga, debiut Łowcy Klaunów i wiele innych niezapomnianych historii! Album "Batman – Wojna Jokera" stworzyli scenarzysta James Tynion IV ("Batman. Wojownicze Żółwie Ninja", "Batman Detective Comics") i rysownik Jorge Jiménez (Supersons"), przy współudziale wielu znakomitych artystów.
Album zawiera materiały opublikowane pierwotnie w amerykańskich zeszytach: "Batman" #95-100 oraz "Batgirl" #47-48 (część), "Detective Comics" #1025, "Harley Quinn" #75, "Red Hood and The Outlaws" #48, "Nightwing" #74, "Catwoman" #25, "Batman: The Joker War Zone" #1.

---