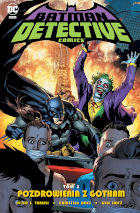 DETECTIVE COMICS, TOM 3: POZDROWIENIA Z GOTHAM
Data wydania: 20 stycznia 2021
Scenariusz: Peter J. Tomasi
Rysunki: Christian Duce, Kyle Hotz, Doug Mahnke, Jaime Mendoza
Tłumaczenie: Tomasz Sidorkiewicz
Druk: kolor, kredowy
Oprawa: miękka ze skrzydełkami
Format: 167 x 255
Ilość stron: 144
Wydawca: Egmont Polska
Wydawca oryginalny: DC Comics
Cena: 39,99 zł
Trzeci tom serii "Batman: Detective Comics" to dawka ekscytujących opowieści o Batmanie autorstwa uznanego scenarzysty Petera J. Tomasiego ("Superman") oraz wielu doskonałych artystów, w tym Christiana Duce'a ("The Flash") i Kyle'a Hotza ("Incredible Hulk")! Batman jest obrońcą i strażnikiem Gotham, Mrocznym Rycerzem miasta. Nie jest jednak jedyną niezwykłą istotą, która przemierza dachy nad zatłoczonymi ulicami. W Gotham pojawiają się goście, niektórzy dobrzy, niektórzy źli, charakter jeszcze innych trudno określić – a każdy z nich chce czegoś od najlepszego detektywa na świecie. Spectre może być ucieleśnieniem boskiego gniewu, ale to jego nosiciel, detektyw Jim Corrigan, potrzebuje pomocy Batmana, by złapać zabójcę. Deadshot jest jednym z najlepszych agentów Suicide Squad, Oddziału Samobójców. Tym razem otrzymuje zlecenie na Bruce'a Wayne'a. Lex Luthor przemierza świat, by umożliwić przestępcom spełnienie ich najskrytszych pragnień. Trafia też do Gotham, by złożyć swoją ofertę zimnemu jak lód Mister Freeze'owi. Nie możemy pominąć również Jokera, który po opuszczeniu Legionu Zagłady zamienia wesołe miasteczko w miejsce rodem z prawdziwych koszmarów. Niezwykli sojusznicy i zaciekli wrogowie – nadszedł czas, aby Batman przywitał ich wszystkich w swoim mieście!

Trzeci tom "Batman Detective Comics" z historiami autorstwa Petera J. Tomasiego ukazał się na Polskim rynku. Jest to ostatni tom przed dużym wydarzeniem o nazwie "Year of the Villain". Ostatnia historia w recenzowanym tomie stanowi wprowadzenie do tego wydarzenia. "Pozdrowienia z Gotham" to zbiór trzech dwu częściowych historii rozgrywających się na łamach oryginalnych numerów #1006–1011″Detective Comics". Każdy miłośnik pulpy ze świata Batmana znajdzie tu coś dla siebie.
W pierwszej opowieści drogi Mrocznego Rycerza krzyżują się ze Spectre duchem zemsty. W drugiej Batmana czeka kolejne starcie z Jokerem w wesołym miasteczku imienia Bollanda. Akcja ostatniej historii rozgrywa się w Indonezyjskiej dżungli gdzie Bruce Wayne będzie musiał zmierzyć się z Deadshotem. Wszystkie zaprezentowane opowiastki są dość krótkie i scenariuszowo niczym specjalnym się nie wyróżniają. Wyjątek stanowi, wprowadzenie do "Year of Villain" dotyczące Mr. Freeze'a i jego zahibernowanej żony Nory, wplecione zgrabnie w ostatnią opowieść. Jako ciekawostkę można potraktować motyw fabularny pojawiający się w ostatnim epizodzie dotyczący dwóch mieszkańców wyspy zaczerpnięty z filmu "Kong wyspa czaszki" z 2017 roku.
Graficznie omawiany komiks stoi na bardzo wysokim poziomie. Szczególnie do gustu przypadły mi kadry z pierwszej opowieści rysowane przez Kyle Hotza. Jest to moje pierwsze zetknięcie się z tym rysownikiem i mam nadzieję, że natknę się na jego prace jeszcze nie raz. Duga, Mahanke i Jima Mendoze polskim czytelnikom przedstawiać nie trzeba, ci rysownicy to klasa sama w sobie.
Omawiany tom polecam szczególnie tym czytelnikom, którzy dopiero zaczynają swoją przygodę z "Detective Comics". Długoletni fani Batmana mogą pominąć ten komiks, chyba że lubią prace wymienionych wyżej artystów. Za rysunki podwyższam ocenę końcową.
Ocena: 4 nietoperki

---
Wydanie powstało na podstawie komiksu: DETECTIVE COMICS VOL. 3: GREETINGS FROM GOTHAM.
---