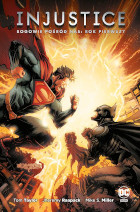 INJUSTICE: BOGOWIE POŚRÓD NA. ROK PIERWSZY, TOM 1
Data wydania: 29 września 2021
Scenariusz: Tom Taylor
Rysunki: Jheremy Raapack, Mike S. Miller
Tłumaczenie: Tomasz Sidorkiewicz
Druk: kolor, kredowy
Oprawa: twarda
Format: 170 x 260
Ilość stron: 424
Wydawca: Egmont Polska
Wydawca oryginalny: DC Comics
Cena: 119,99 zł
Superman jest największym bohaterem Ziemi. Ale kiedy ginie najdroższa mu osoba, oszalały z wściekłości wymierza sprawiedliwość na własną ręką i z zimną krwią zabija człowieka odpowiedzialnego za tę zbrodnię. To wydarzenie zapoczątkuje przemianę Człowieka ze Stali. Zamiast podejmowania kolejnych prób ratowania świata… postanawia przejąć nad nim władzę. Ostatni Syn Kryptona siłą zaprowadza pokój na Ziemi, nie licząc się z nikim i z niczym. Tylko jeden człowiek stoi między Supermanem a władzą absolutną: Batman. Mroczny Rycerz użyje wszelkich dostępnych mu metod, aby powstrzymać swojego byłego przyjaciela przed zniszczeniem świata. Kto przyłączy się do bezwzględnej krucjaty Supermana przeciwko przestępczości, a kto opowie się po stronie buntu u boku Batmana?
Album "Injustice: Bogowie Pośród Nas – Rok pierwszy", inspirowany fenomenalną grą wideo, opowiada historię szaleństwa, jakie zawładnęło światem, gdy bohaterowie obdarzeni niemal boskimi mocami spróbowali go naprawić. Scenariusz Toma Taylora ("DCeased") oraz ilustracje takich rysowników jak Jheremy Raapack ("Resident Evil"), Mike S. Miller ("Game of Thrones") gwarantują niesamowitą rozrywkę.
To pierwszy tom bestsellerowej serii przedstawiającej superbohaterów z uniwersum DC, jakich nigdy wcześniej nie widzieliście! Album zawiera materiały opublikowane pierwotnie w amerykańskich zeszytach w formie cyfrowej jako "Injustice: Gods Among Us" #1-36, a później drukowanej jako "Injustice: Gods Among Us" #1-12 i "Injustice: Gods Among Us Annual" #1.
---
---
Wydanie powstało na podstawie komiksu INJUSTICE: GODS AMONG US YEAR ONE – THE COMPLETE COLLECTION.
---