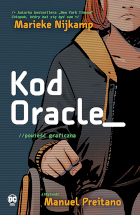 KOD ORACLE
Data wydania: 19 maja 2021
Scenariusz: Marieke Nijkamp
Rysunki: Manuel Preitano
Tłumaczenie: Alicja Laskowska
Druk: kolor, kredowy
Oprawa: miękka
Format: 150 x 220
Ilość stron: 184
Wydawca: Egmont Polska
Wydawca oryginalny: DC Comics
Cena: 34,99 zł
Cykl powieści graficznych dedykowany młodym czytelnikom, poruszający ważne tematy społeczne. Składają się na niego pojedyncze albumy poświęcone nastoletnim bohaterom znanym z komiksów DC. Świat oglądany oczami młodych ludzi nie zawsze jest pięknym i przyjaznym miejscem, a problemy, z którymi przyjdzie zmierzyć się bohaterom, przerosłyby niejednego dorosłego. Na szczęście w ich życiu nie zabraknie również miejsca na przyjaźń, radość czy szalone przygody.
Autorami poszczególnych tomów są doskonale znani nastoletnim czytelnikom pisarze o międzynarodowej sławie tworzący literaturę dla młodzieży, jak Kami Garcia ("Piękne istoty"), Lauren Myracle ("3maj się") czy Leigh Bardugo ("Grisza"). Za warstwę graficzną odpowiadają utalentowani ilustratorzy i rysownicy, jak Gabriel Picolo, Kit Seaton czy Manuel Preitano.
"Kod Oracle" to powieść graficzna, która odkrywa mroczne zakamarki pierwszej zagadki Barbary Gordon: jej samej. Za scenariusz odpowiada autorka bestsellerów "New York Timesa" Marieke Nijkamp ("Chłopak, który bał się być sam") i artysta Manuel Preitano.
Barbara Gordon, sparaliżowana od pasa w dół w wyniku postrzału, zostaje przyjęta do Centrum Rehabilitacji Arkham – miejsca, gdzie nastolatki z Gotham mogą skorzystać z kompleksowej rehabilitacji i otrzymać pomoc psychologiczną. Skazana na wózek Barbara musi przyzwyczaić się do nowej rzeczywistości, jednak coś nie daje jej spokoju. W nocy słychać dziwne głosy, a pacjenci ośrodka zaczynają znikać. Czy dręczące ją podejrzenia są wynikiem traumy? A może dziewczyna rzeczywiście słyszy głosy dochodzące z niekończących się korytarzy centrum? Barbara musi poskładać wszystkie części łamigłówki, by rozwiązać tajemnicę kryjącą się za ścianami CRA. W "Kodzie Oracle" nie da się uciec od prawdy, a Barbara Gordon musi pokonać demony przeszłości, zanim pochłoną jej przyszłość.
---
Wydanie powstało na podstawie komiksu: THE ORACLE CODE.
---