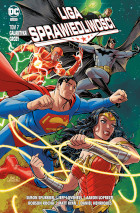 LIGA SPRAWIEDLIWOŚCI, TOM 7: GALAKTYKA GROZY
Data wydania: 24 listopada 2021
Scenariusz: Simon Spurrier, Jeff Loveness
Rysunki: Aaron Lopresti, Robson Rocha
Tłumaczenie: Marek Starosta
Druk: kolor, kredowy
Oprawa: miękka ze skrzydełkami
Format: 167 x 255
Ilość stron: 132
Wydawca: Egmont Polska
Wydawca oryginalny: DC Comics
Cena: 39,99 zł
W siódmym tomie serii Liga Sprawiedliwości zmierza do gwiazd. Na największych bohaterów DC czekają kosmiczni złoczyńcy i tajemnice! Najpierw Superman, Batman, Wonder Woman, Green Lantern i Flash odpowiedzą na wezwanie o pomoc. Trafią na podzielony wojną gatunek Trotha. Czy ziemscy bohaterowie zostaną uznani za wybawicieli, czy za najeźdźców? A może za jednych i drugich? Czy Liga Sprawiedliwości zjednoczy mieszkańców planety, zanim zniszczy ich zło? Następnie członkowie Ligi odnajdą rodzimą planetę pasożytniczej rośliny znanej jako Czarna Łaska, zsyłającej żywicielom wizje idealnego życia. Pod wpływem tej rośliny Batman wreszcie odnajdzie spokój, ale jego koledzy będą musieli zabrać go z tego raju, żeby wszyscy mogli przetrwać!
Scenariusz historii zamieszczonych w albumie napisali Simon Spurrier ("John Constantine: Hellblazer") oraz Jeff Loveness ("Rick i Morty"), a zilustrowali je Aaron Lopresti ("Wonder Woman") i Robson Rocha ("Aquaman"). Ich opowieści dowodzą, że Liga Sprawiedliwości to najwięksi bohaterowie niejednego świata!
Album zawiera materiały pierwotnie opublikowane w amerykańskich zeszytach "Justice League" #48–52.
---
Wydanie powstało na podstawie komiksu: JUSTICE LEAGUE: GALAXY OF TERRORS.
---