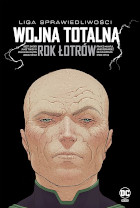 LIGA SPRAWIEDLIWOŚCI: WOJNA TOTALNA. ROK ŁOTRÓW
Data wydania: 21 kwietnia 2021
Scenariusz: Scott Snyder, Tynion James IV, Tom Taylor
Rysunki: Jorge Jimenez, Javier Fernández, Steve Epting
Tłumaczenie:Marek Starosta
Druk: kolor, kredowy
Oprawa: twarda
Format: 170 x 260
Ilość stron: 648
Wydawca: Egmont Polska
Wydawca oryginalny: DC Comics
Cena: 149,99 zł
Niniejszy album zamyka okres, gdy scenarzyści Scott Snyder oraz James Tynion IV pracowali nad serią "Liga Sprawiedliwości". Tom zawiera także "Rok Łotrów" – poświęcony największym złoczyńcom uniwersum DC, w tym opowieść o Jokerze, której współautorem jest słynny reżyser John Carpenter ("Halloween").
Komiks wieńczy finałowe starcie pomiędzy Lexem Luthorem a Batmanem, Który się Śmieje. Ta potężna saga stanowi pomost pomiędzy dwoma ważnymi wydarzeniami, których architektem jest Scott Snyder, czyli "Batman Metal" i nadchodzący "Batman Death Metal". Rozpoczyna się wielka bitwa o losy świata. Po jednej stronie staną najwięksi superbohaterowie uniwersum DC, a po drugiej Lex Luthor wraz z armią superłotrów. Ludzkość będzie musiała wybrać, po której ze stron się opowie: sprawiedliwości czy zagłady? Lex Luthor pod wpływem istoty o imieniu Perpetua, matki Monitorów i twórczyni multiwersum, stworzył Legion Zagłady. Chciał udowodnić ludziom, że istnieje tylko jedna droga: absolutnego zła. Ogłosił również Rok Łotrów i zaoferował złoczyńcom niemal nieograniczone możliwości. Z pomocą Perpetui przekształcił się w drapieżnika szczytowego, istotę zdolną zawładnąć światem. Dzięki Luthorowi i jego rekrutom Perpetua odzyskała swoją pierwotną, boską moc, a całe multiwersum drży przed jej potęgą. Jej celem jest podbój multiwersum oraz zagłada światów, które nie pasują do jej wizji nowego porządku. Powstrzymać mogą ją jedynie siły mrocznego multiwersum, a to oznacza, że misją Lexa Luthora będzie pokonanie Batmana, Który się Śmieje! Do tej pory nie zdołali tego dokonać ani Batman, ani Superman, czy teraz uda się to Luthorowi?
Album zawiera materiały pierwotnie opublikowane w amerykańskich zeszytach. "Justice League" #26–39, "DC's Year of The Villain" #1, "Black Mask: Year of The Villain" #1, "Sinestro: Year of The Villain" #1, "Lex Luthor: Year of The Villain" #1, "Riddler: Year of The Villain" #1, "The Joker: Year of The Villain" #1, "Batman/Superman" #6, "Year of The Villain: Hell Arisen" #1–4.
---