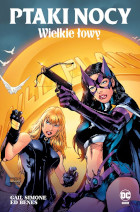 PTAKI NOCY: WIELKI ŁOWY
Data wydania: 29 września 2021
Scenariusz: Gail Simone
Rysunki: Ed Benes
Tłumaczenie: Marek Starosta
Druk: kolor, kredowy
Oprawa: twarda
Format: 170 x 260
Ilość stron: 360
Wydawca: Egmont Polska
Wydawca oryginalny: DC Comics
Cena: 109 zł
Album "Ptaki Nocy – Wielkie łowy" to kontynuacja runu legendarnej scenarzystki Gail Simone ("Secret Six") o grupie wojowniczych bohaterek. Autorce towarzyszą rysownik Ed Benes ("Superman") oraz wielu innych twórców. Wcześniejsze przygody tej niezwykłej drużyny znajdziecie w tomie "Ptaki Nocy – Tajemnice i morderstwa". Black Canary, Huntress i Oracle. Ptaki Nocy.
Elitarna grupa kobiet, która rozbija przestępczy półświatek Gotham. Huntress i Vixen działają pod przykrywką, aby zdemaskować groźną sektę działającą poza Gotham. Natomiast Black Canary i Oracle stawiają czoło takim przeciwnikom jak Brainiac i Joker. Poza tym Ptaki Nocy muszą połączyć siły w starciu z potężną nadnaturalną postacią, która na własną rękę wymierza sprawiedliwość, wysysając z ofiar siły życiowe. Czy któraś z członkiń grupy zapłaci najwyższą cenę za grzechy przeszłości?
Album zawiera materiały opublikowane pierwotnie w amerykańskich zeszytach "Batgirl" #57, "Batman" #633 i "Birds Of Prey" #68–80.
---
---