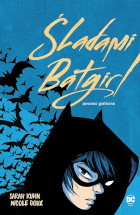 ŚLADAMI BATGIRL
Data wydania: 13 października 2021
Scenariusz: Sarah Kuhn
Rysunki: Nicole Goux
Tłumaczenie: Alicja Laskowska
Druk: kolor, kredowy
Oprawa: miękka
Format: 150 x 230
Ilość stron: 192
Wydawca: Egmont Polska
Wydawca oryginalny: DC Comics
Cena: 34,99 zł
Cykl powieści graficznych dedykowany młodym czytelnikom, poruszający ważne tematy społeczne. Składają się na niego pojedyncze albumy poświęcone nastoletnim bohaterom znanym z komiksów DC. Świat oglądany oczami młodych ludzi nie zawsze jest pięknym i przyjaznym miejscem, a problemy, z którymi przyjdzie zmierzyć się bohaterom, przerosłyby niejednego dorosłego. Na szczęście w ich życiu nie zabraknie również miejsca na przyjaźń, radość czy szalone przygody.
Autorami poszczególnych tomów są doskonale znani nastoletnim czytelnikom pisarze o międzynarodowej sławie tworzący literaturę dla młodzieży, jak Kami Garcia ("Piękne istoty"), Lauren Myracle ("3maj się") czy Leigh Bardugo ("Grisza"). Za warstwę graficzną odpowiadają utalentowani ilustratorzy i rysownicy, jak Gabriel Picolo, Kit Seaton czy Manuel Preitano.
Cassandra Cain, nastoletnia zabójczyni, nie jest idealną kandydatką na nowe wcielenie Batgirl… przynajmniej jeszcze nie teraz. Czy uda się jej wyjść z cienia i pokonać największą przeszkodę – ten cichy głos w środku, mówiący, że nigdy nie będzie bohaterką? Na szczęście Cass nie musi mierzyć się z losem w pojedynkę. Z pomocą nowych mentorek – właścicielki japońskiej restauracji Jackie Fujikawy Yoneyamy oraz bibliotekarki Barbary Gordon – postara się sprostać wyzwaniu w jedyny sposób, jaki przychodzi jej do głowy: zbierając rozmaite informacje na temat swojej ulubionej superbohaterki. Problem w tym, że kilka lat temu Batgirl zapadła się pod ziemię… Czy Cass zdoła ją odnaleźć, uciekając przed własnym ojcem, który jest gotowy zniszczyć wszystko, co zdążyła pokochać? A może sama podejmie się misji ratowania świata?
Sarah Kuhn, autorka "Heroine Complex" i "I Love You So Mochi", opowiada wstrząsającą historię dziewczyny, która mimo licznych przeszkód odnajduje w końcu swoją tożsamość. Opowieść uzupełniają rysunki Nicole Goux. "
---
Wydanie powstało na podstawie komiksu SHADOW OF THE BATGIRL.
---