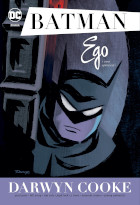 BATMAN: EGO I INNE OPOWIEŚCI
Data wydania: 23 marca 2022
Scenariusz: Darwyn Cooke, Amanda Conner, Jimmy Palmiotti, Paul Grist
Rysunki: Darwyn Cooke, Tim Sale, J. Bone, Bill Wray
Tłumaczenie: Marek Starosta, Paulina Braiter, Jarosław Grzędowicz, Tomasz Sidorkiewicz
Druk: kolor, kredowy
Oprawa: twarda z obwolutą
Format: 180 x 275
Ilość stron: 272
Wydawca: Egmont Polska
Wydawca oryginalny: DC Comics
Cena: 109,99 zł
Wyjątkowy album, w którym zebrano opowieści o Batmanie autorstwa znakomitego amerykańskiego scenarzysty i rysownika Darwyna Cooke'a.
W słynnym komiksie "Batman: Ego" bohater przeprowadzi autopsychoanalizę, aby poznać prawdę o samym sobie. W opowieści "Batman/Spirit" wraz z zamaskowanym detektywem z Central City stawi czoło sojuszowi najgorszych łotrów.
"W Wielkim Skoku Seliny" po raz kolejny podąży tropem inteligentnej i pięknej Catwoman. A poza tym… jak zwykle: w przygodach obrońcy Gotham nie zabraknie sprzymierzeńców takich jak Robin czy Jim Gordon, ani śmiertelnych wrogów – Jokera czy Harley Quinn. Pewnego wieczoru Batman wybierze się nawet na randkę…
Darwyn Cooke (zm. 2016) stworzył scenariusze bądź rysunki do wielu serii komiksowych i powieści graficznych (m.in. "Catwoman", "Strażnicy: Początek", "The Spirit", "Parker") oraz seriali animowanych ("Batman", "Superman"). Za swoją twórczość otrzymał trzynaście Nagród Eisnera, dziewięć Nagród Harveya i pięć Nagród Shustera!
Otwierający album "Ego" to zasłużony klasyk, ale chyba przeczytałem go za późno, w dodatku w niewłaściwym czasie – staram się unikać Jokera jak ognia – przez co nie zachwycił mnie tak, jak wiele innych kultowych tytułów z Batmanem. Na pewno kiedyś do niego wrócę i liczę, że wtedy spodoba mi się jeszcze bardziej.
Drugą z ośmiu historii zawartych w tym albumie jest "Tu są potwory". To 8-stronicowa nowela wcześniej opublikowana w albumach "Batman: Black & White" (w 1997 przez TM-Semic oraz w 2020 przez Egmont). Jest okej, choć nie dostrzegam w niej nic godnego zapamiętania.
Kolejną jest "Wielki skok Seliny", czyli wydana wcześniej zarówno przez Egmont, jak i w kolekcji Eaglemoss, powieść graficzna Darwyna Cooke'a, którą uważał za swoją najlepszą pracę związaną z postaciami z Gotham City. Nie dziwię mu się, bo napisana jest znakomicie, pomysłowe perspektywy kadrów zachwycają, a i sam pomysł na historię typu "heist" wypadł bardzo oryginalnie, bo chyba jeszcze nigdy nie czytałem takiego komiksu. Rozczarowało mnie jedynie dosłowne powiązanie tytułu z zwartością, bo naprawdę jest to skok "Seliny", a nie Catwoman, która w kostiumie pojawia się na zaledwie kilku kadrach w retrospekcjach. O ile jeszcze brak pełnoprawnej Kobiety-Kot to przysłowiowy pikuś, tak oddanie narracji innym bohaterom w drugim i trzecim rozdziale troszkę za bardzo rozwodniło dla mnie tę historię i w środku zrobiło z Seliny postać drugoplanową.
"Pomnik" to kolejne osiem stron z cyklu "Black & White". Tę historię Cooke jedynie napisał, ale podobała mi się bardziej od "potworów" ze względu na to, jak humorystycznie podchodzi do postaci Człowieka-Nietoperza.
"Mroczny Rycerz na randce" czytałem już wcześniej (w "Legendach Mrocznego Rycerza" Tima Sale'a wydanych przez Mucha Comics). Tym razem zabrakło słowa wstępu autora szaty graficznej, ale wydanie Egmont na pewno wygrywa powiększonym formatem i lepszymi (czyt. żywszymi) kolorami. Nie będę się rozpisywać – uwielbiam ten komiks, takiego Batmana i tę Catwoman.
"Déjà vu" to remake historii "Night of the Stalker" pierwotnie opublikowanej w "Detective Comics #439" z 1974 roku. O ile tamten klasyk bardzo mi się podobał (czytałem dwukrotnie), tak Darwyn zrobił z niego niemal arcydzieło wprowadzając kilka autorskich zmian i dodając własnych bohaterów, zachowując przy tym ducha tej opowieści. Jego ilustracje łączące styl wczesnych lat 40-tych z animacją "Batman TAS" robią za wspaniałe dopełnienie tej znakomitej historii. Według mnie to zdecydowanie najlepszy komiks, jaki znalazł się w tym albumie.
Dalej znajdziemy w nim "Zjazd policjantów" pierwotnie opublikowany w "Batman/The Spirit #1". Z jednej strony bardzo podobało mi się to retro-campowe podejście, z drugiej – tak, jak przy "Ostatnim skoku Seliny" – wielowarstwowa narracja wydała mi się zbędna, służyła jedynie imponowaniu tym, jak Cooke potrafił pisać scenariusze. Jak na mój gust trafił się tu o jeden twist za dużo.
Na końcu umieszczono krótką, bardzo zabawną historię pt. "Zabić czas". Według mnie to jeden z najlepszych komiksowych występów Harley Quinn, w dodatku bez udziału Batmana i Jokera!
Do albumu dołączono również sporo okładek autorstwa Darwyna Cooke'a, jego 4-stronicowe posłowie, a także drugie, przygotowane przez Kamila Śmiałkowskiego, stałego współpracownika Egmont. Nie jest tego dużo, ale nawet przez chwilę nie przeszło mi przez myśl, że dodatków było za mało. Dla kogoś, kto nie czytał wcześniej powyższych komiksów (ja do tej pory nie posiadałem pięciu z nich) jest to pozycja zdecydowanie godna polecenia.
Ocena: 5 nietoperków

---
---
Wydanie powstało na podstawie komiksu: BATMAN: EGO AND OTHER TAILS.
---