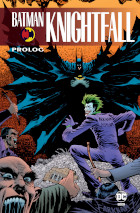 BATMAN KNIGHTFALL, TOM 1: PROLOG
Data wydania: 27 kwietnia 2022
Scenariusz: Dennis O'Neil, Chuck Dixon, Doug Moench
Rysunki: Tom Grindberg, Graham Nolan, Joe Quesada, Jim Aparo
Tłumaczenie: Tomasz Sidorkiewicz
Druk: kolor, kredowy
Oprawa: twarda
Format: 170 x 260
Ilość stron: 684
Wydawca: Egmont Polska
Wydawca oryginalny: DC Comics
Cena: 199,99 zł
Choć od ukazania się "Batman Knigtfall" minęło już prawie 30 lat, to do dziś pozostaje jedną z najważniejszych kanonicznych opowieści o Mrocznym Rycerzu. Na początku lat 90. XX w. było to wydarzenie, które podobnie jak "Śmierć Supermana" wstrząsnęło nie tylko uniwersum DC, ale też czytelnikami. Było to również pierwsze tak duże przedsięwzięcie w komiksach o Mrocznym Rycerzu, ten potężny crossover publikowany był przez ponad dwa lata na łamach kilku serii związanych z batrodziną.
Obrońca Gotham nigdy dotąd nie spotkał równego sobie przeciwnika. Mimo dość bogatej galerii łotrów Batman potrzebował zupełnie nowego antagonisty – innego niż Joker czy Strach na Wróble – dorównującego mu zarówno intelektem, jak i siłą fizyczną. Tak pojawiła się postać Bane'a, który jest nie tylko bezwzględnym draniem, ale i doskonałym strategiem. Po 50 latach od swojego debiutu Mroczny Rycerz został pokonany. A scena z udziałem Bane'a jest jedną z najbardziej ikonicznych w historii Mrocznego Rycerza.
Motyw ten będzie wykorzystywany i przetwarzany nie tylko w komiksach (seria "Batman" Toma Kinga), ale także w filmach ("Mroczny Rycerz powstaje" Christophera Nolana) czy grach ("Batman: Arkham Origins"). "Batman Knightfall" to pozycja, której żaden fan Mrocznego Rycerza nie może przegapić. To również świetna okazja do poznania licznych barwnych postaci wypełniających Gotham "Batman Knightfall: Prolog" rozpoczyna niezwykle ambitną, pięciotomową sagę zbierającą wszystkie wątki związane z niezapomnianym starciem Bane'a z Batmanem. W pierwszym tomie poznajemy genezę Bane'a i Azraela – dwóch nowych postaci w uniwersum DC, które będą kluczowe dla dalszych wydarzeń. Obserwujemy również Batmana zmagającego się z tajemniczą chorobą. Mimo że zgłasza się po pomoc do terapeutki Shondry Kinsolving, jego stan ciągle się pogarsza.
Tymczasem w Gotham działa wielu śmiertelnie niebezpiecznych przestępców. Joker, Poison Ivy, Szalony Kapelusznik i Killer Croc są w stanie zrobić wszystko, co w ich mocy, aby siać zamęt na ulicach. W mieście pojawia się też nowy gracz – szaleniec znany jako Bane. Jego przeznaczeniem jest zniszczenie Batmana i przejęcie kontroli nad Gotham.
Autorami scenariusza są legendarni twórcy jak Chuck Dixon, Doug Moench czy Dennis O'Neil. Za rysunki odpowiadają zaś doskonali artyści jak Joe Quesada, Graham Nolan, Tom Grindberg, Jim Aparo oraz wielu innych.
Abum zawiera materiały opublikowane pierwotnie w amerykańskich zeszytach: "Batman: The Sword Of Azrael" #1–4, "Batman Legends of the Dark Knight" #16–20, "Batman: Vengeance of Bane" #1, "Batman" #484–491, "Legends of The Dark Knight Annual" #2, "Detective Comics" #654–658. "
---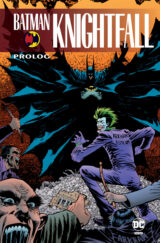 ---